In little over 17 years, Patricia Urquiola, the Milan-based virtuoso, has transformed herself into one of the most celebrated women in the male-dominated world of global design.
- By Maria Louis
The Experimental Design
Let me begin with a roll call of diverse places where you will find the stamp of a living legend in the world of architecture and design — the Mandarin Oriental Hotel in Barcelona; Das Stue Hotel in Berlin; the spa of the Four Seasons Hotel in Milan; the Room Mate Giulia Hotel in Milan and Il Sereno Hotel in Como; showrooms and installations for Cassina, Gianvito Rossi, Missoni, Moroso, Molteni, Officine Panerai, H&M and Santoni. And this is in addition to an astounding variety of designs for renowned international companies — from furniture and design majors such as Agape, Alessi, B&B Italia, Baccarat, De Padova, Driade, Flos, Gan, Molteni, Moroso, Rosenthal and Verywood, to luxury car brand BMW and fashion house Louis Vuitton.
Multidisciplinary is a word that has acquired currency of late, but it fits architect-interior designer-product designer Patricia Urquiola like a glove ever since she began her career around three decades ago. Hers is a remarkable story of success, especially considering that she belonged to a rare breed of women that had only just begun populating the field of architecture then. Her passion took her places, admittedly, at times by happenstance.
But change has been her constant companion. By her own admission, Urquiola is always changing, learning and evolving from what she does and the reality she lives in. "Therefore, so does my work," points out the designer. "When I work on a new project, I give it my 100%; it becomes sort of an obsession. Then, I move on to the next project that awaits. It's part of the learning process."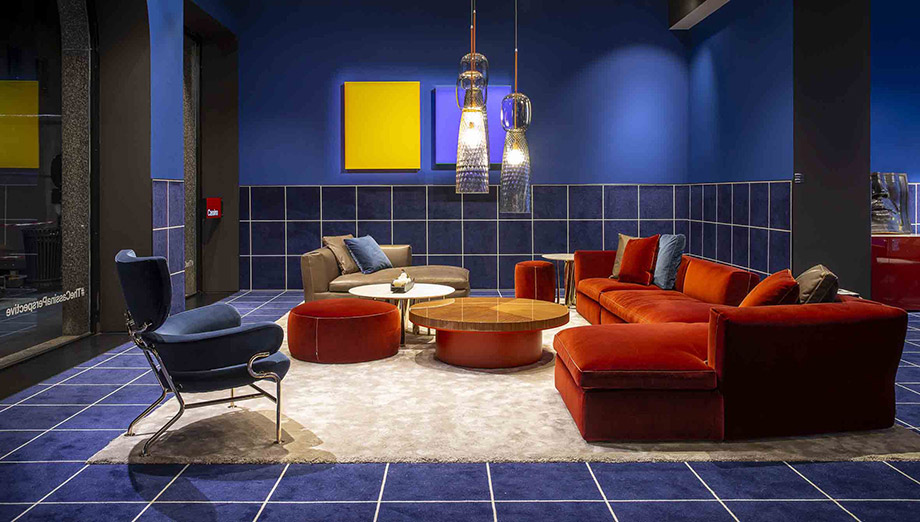 For Urquiola, the learning process began relatively early. Not all of us are blessed with such clarity when it comes to life decisions; but she knew she wanted to become an architect when she was a teenager. Proficiency in mathematics and a fondness for drawing were telling signs, even at the impressionable age of 12. The Spanish designer studied architecture at the Universidad Politécnica de Madrid and, later, at the Politecnico di Milano, from where she graduated in 1989.
Opening her own studio in 2001 was a turning point for this pioneer.
"Thinking about sustainability while designing has now become a necessity, and we are already seeing changes in this field."
"People were telling me that it was time to take this step, that if I had something to say, I had to try—so I did," she recalls. Over the years, she has worked with different people and brands, but acknowledges that it was Patrizia Moroso who really believed in her in the beginning, way before fame smiled brightly upon her. "It was with Moroso that my reality as an independent and established designer began, with a series of seating solutions in the early 2000s." It is a tribute to their relationship that, 20 years later, Patricia and Patrizia are still collaborating.
Urquiola arrived in Milan in the late 1980s, after studying architecture in Madrid. Her playful use of unusual shapes and colours was in sharp contrast to the prevalent Italian design language then, which veered towards postmodernism.
The inspirations
Every successful professional usually has a mentor, someone who — unwittingly or by design — steers you in the direction your life and work will eventually take. For Urquiola, that someone was Italian architect Achille Castiglioni, under whose tutelage she blossomed. "I felt the need to step out of my comfort zone and explore new places, so I moved to Milan to finish my studies," she explains. "That is where I met Achille Castiglioni; he was my professor and my thesis mentor. The reason I began becoming interested in industrial design."
81 Describing Castiglioni's classes as "incredible", Urquiola recalls that he would arrive with a big bag of objects every time. "We would talk about everything — the form, the relationship with the human body, the layers of popular knowledge that gave life to incredible objects..."
There have been other influences and inspirations too. "I have always admired Danish-Icelandic artist Olafur Eliasson. He is an incredible artist who works with elements that are very important to me — like space, light, water, air. He is obsessed with his research and, at the same time, very easygoing. I was lucky to work with him ona small project some years ago."
Urquiola considers herself fortunate to have worked with great mentors through her early years that shaped her thoughts and work ethic. Aside from Castiglioni, Vico Magistretti, an Italian architect and designer and Maddalena De Padova, founder of the Italian furniture company De Padova, taught her the importance of experimenting and the value of mistakes. "These people had a big impact on my journey. They all taught me things I still carry with me today," declares the designer, crediting her revolutionary spirit to her family of strong women and her progressive engineer father who encouraged her to move beyond her comfort zone.
Drawing from eastern cultures
One country that Urquiola often turns to for inspiration is Japan. At the Salone del Mobile in Milan this year, the Italian furniture company Moroso presented the intricately irregular Gogan sofa, designed by Urquiola, which draws its inspiration from Japanese stacking stones."It is a country I love, with so many traditions and beautiful places. I have always dreamt of taking a gap year there," she discloses. "But inspiration is not something you can find and catch: it's not linear or logical. It is a mix of stored emotional memory and immediate reaction to what surrounds us, sometimes a little detail becomes an obsession — which eventually develops into an idea." India has contributed to the designer's 'obsessions' as well. At the Milan Design Week last year, Urquiola unveiled a daybed and side table that she designed to complement the Garden Layers collection for the Spanish textile brand Gan. Rooted in 16th century India, it references the architecture and traditions of the Mughal empire, which lasted for almost three centuries in the country. In those days, it was customary to sit on a carpet-covered floor — so the first pieces launched in 2017 were a series of rugs, mats, roll pillows and cushions that one could arrange to create a relaxed outdoor lounging space reminiscent of the Mughal times.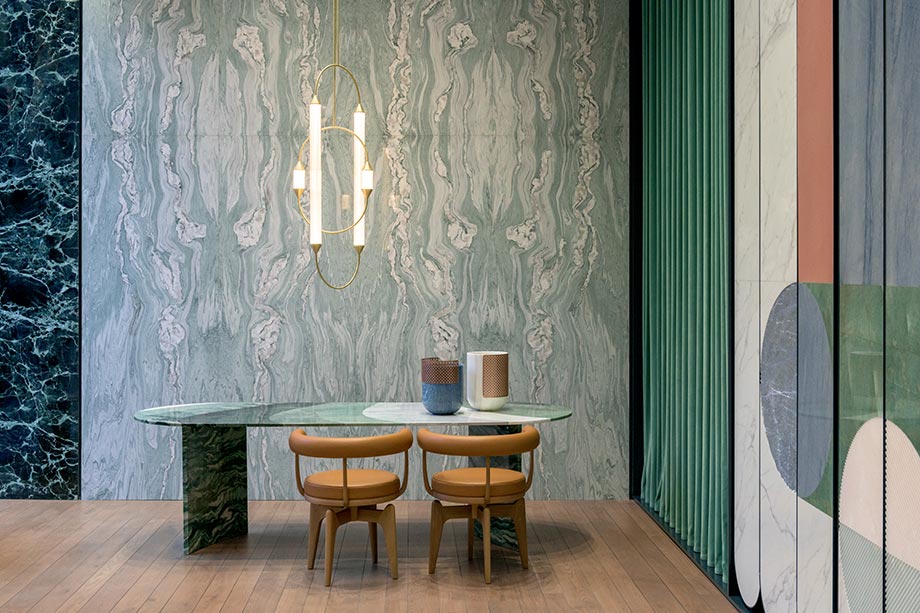 (Top) The Budri showroom is conceived as a theatrical space that highlights the beauty of its surfaces.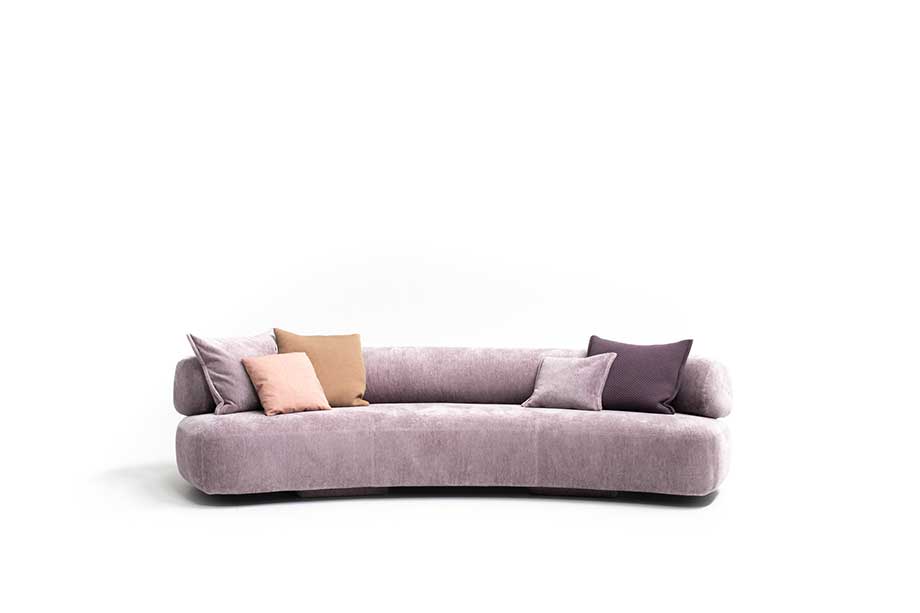 (Right) The Moroso Gogan sofa draws its form from the Japanese stones sculpted by wind and water.
Urquiola is involved with a company in a more holistic and all-encompassing way – from what technology, material and packaging to use, to the company strategy.
While the daybed comes as a single or double, the side tables take a square or rectangular form and are made of powder-coated aluminium — just like the frame of the bed. Urquiola came up with the design after visiting an exhibition of miniature art in India. "Mughal culture celebrated nature and outdoor spaces, and gardens and terraces were common spaces to relax and talk," explained Gan in a statement released then.
Where craft meets industry
Urquiola's work has found space in some of the world's best art and design museums, via exhibitions. In November 2017, Philadelphia Museum of Art celebrated her work with a show titled Patricia Urquiola: Between Craft and Industry. The survey of her solo career included work dating from 2002, soon after she first set up her own studio in Milan, to 2016.
At that time, Donna Corbin, the decorative-arts curator at the museum and the creator of the exhibition, had analysed her influence on the world of design in an interview to The Wall Street Journal, "Ms. Urquiola manages to combine human-scale craftsmanship with the industrial demands of mass production — an achievement that sets her work apart. She has introduced the hand to the machine," citing her 2008 Crinoline armchair, produced by Italy's B&B Italia furniture label.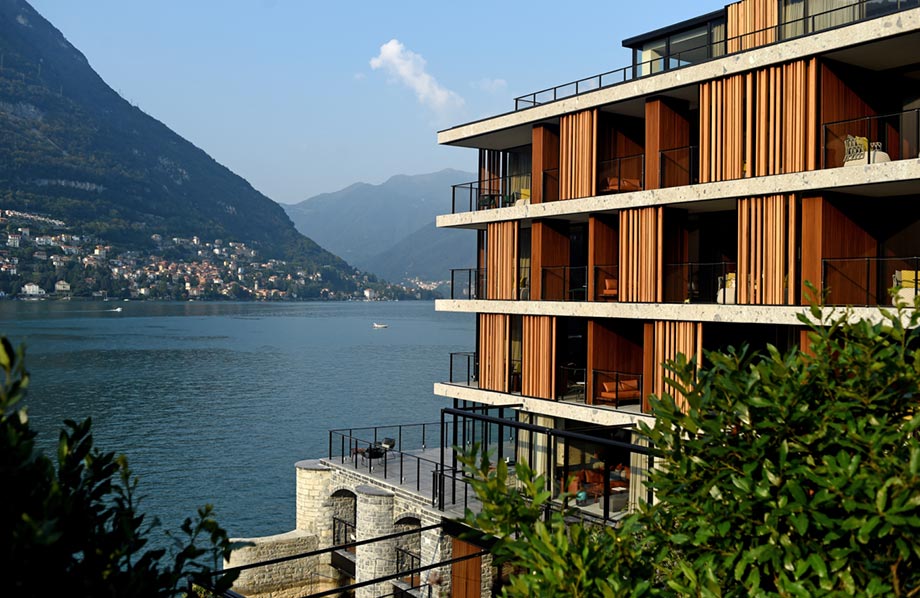 II Sereno hotel has a glassfronted façade, in a stark departure from the neighbouring Renaissance-style edifices.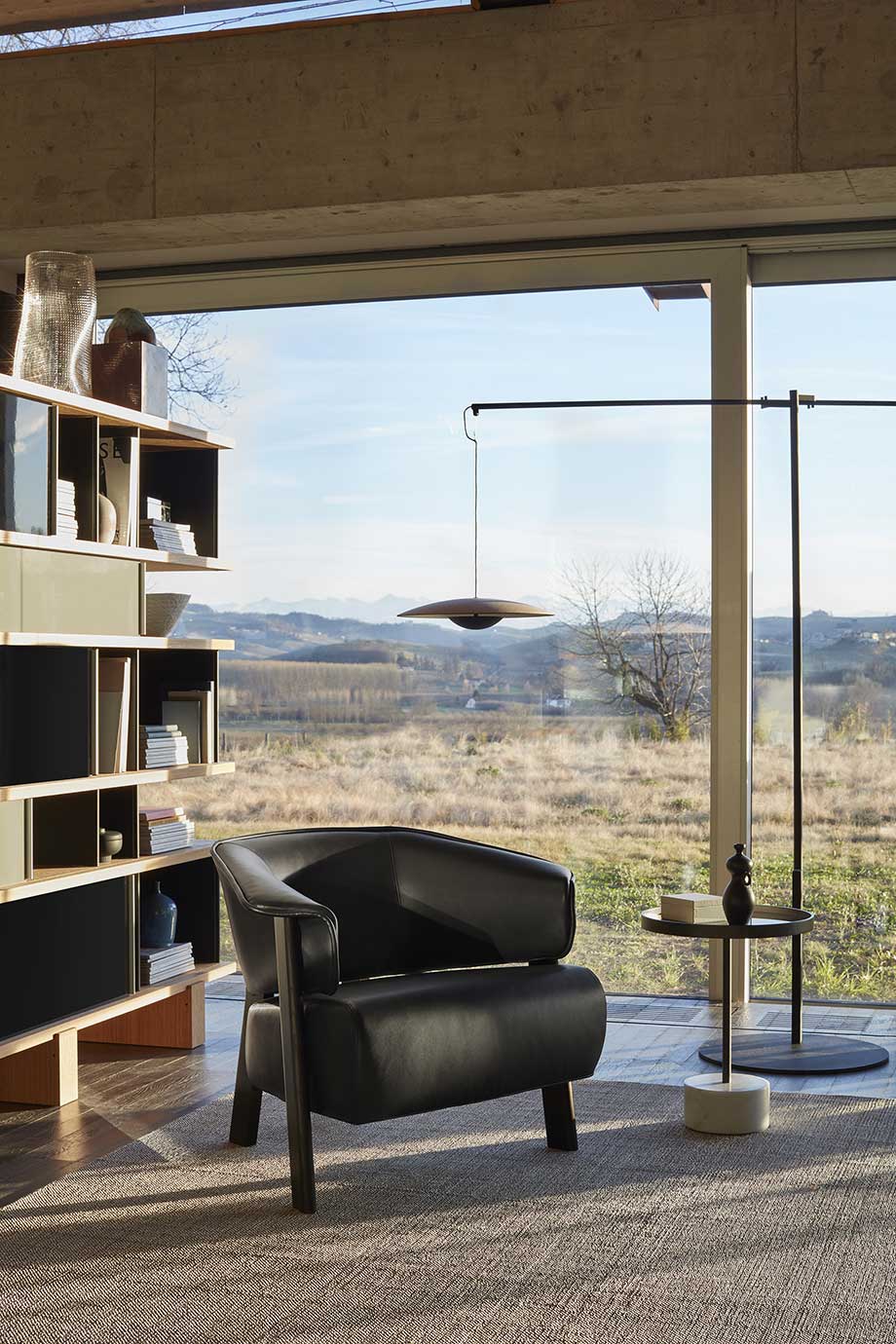 Among her breakthrough designs at the exhibition was the Fjord armchair and stool, inspired by a trip to Scandinavian cities — an asymmetrical riff on typically bulbous, mid-century modernist chairs made by the Italian furniture company Moroso.
Following her success with the numerous hospitality projects under her belt, Urquiola took on her first residential project — Lodha's Lincoln Square, a model of luxury lifestyle set in the heart of London. To mark her design of the shared spaces in this high-end development of apartments, the award-winning designer was commissioned by Lodha to create a symbol for the new building's opening. She devised an exquisite hourglass not only to reflect her distinctive style, but also to speak of the time it takes to design and construct such an extraordinary building.Crafted from glass produced in Venice's world-renowned Murano workshops, there are only 30 of these distinctive handmade sculptural pieces available, each individually signed and numbered. "At Lodha, we pride ourselves on working with the best designers in the world," declared Gabriel York, co-CEO, Lodha UK. "Patricia's attention to detail and aesthetics is in keeping with our approach to design and construction." Urquiola, who has also designed the clubhouse at Lodha Park in Mumbai, believes that we are in the Urquiola is involved with a company in a more holistic and all-encompassing way — from what technology, material and packaging to use, to the company strategy. middle of an important moment oftransition for design. "We need to find ways to rewrite the rules of this industry, to reinvent the way in which we design, the materials we source,the processes we use... Thinking about sustainability while designing has now become a necessity, and we are already seeing changes in this field," insists the designer, who is experimenting with a new kind of leather made from apple skin. Her studio is collaborating with Cassina on this project.
Another collaborative project, this one with gallerist and design impresario Rossana Orlandi, was shown at the Design Week in Milan in early 2019. Her studio developed a giant sneaker-daybed made entirely from upcycled PET. With Mutina, a company that makes ceramic tiles, they are working with new processes that use less water in the production of ceramic. Educating the next generation of designers Certainly, there is a lot on Urquiola's plate.
Still, she finds the time to serve as a visiting lecturer at universities across the world, such as Bocconi University, Harvard University, Domus Academy in Milan, the Philadelphia Museum of Art and, of course, at her alma mater, the Politecnico di Milano — where she is, quite understandably, on the advisory board. The designer is also part of the Scientific Committee for the Fondazione Museo Del Design, and A pick of Patricia Urquiola's best.
Travelling exhibition for Ferrari To commemorate 70 years of Ferrari, in November 2017 Patricia Urquiola realized a travelling exhibition, Under the Skin, which told the story of the Italian automotive company, exploring its rarely seen material such as design models, personal letters, drawings and memorabilia from private collections. The exhibition explored the engineering, design and materials that go into making of a classic Ferrari.
Band armchair, Kettle
The idea behind the Band Armchair is the breaking down of structure; an object designed using an ensemble of pieces. The chair's design intentionally challenges the classic sophisticated lines of furniture design. It is a structure with repetitive angular shapes that give centre-stage to its raw materials.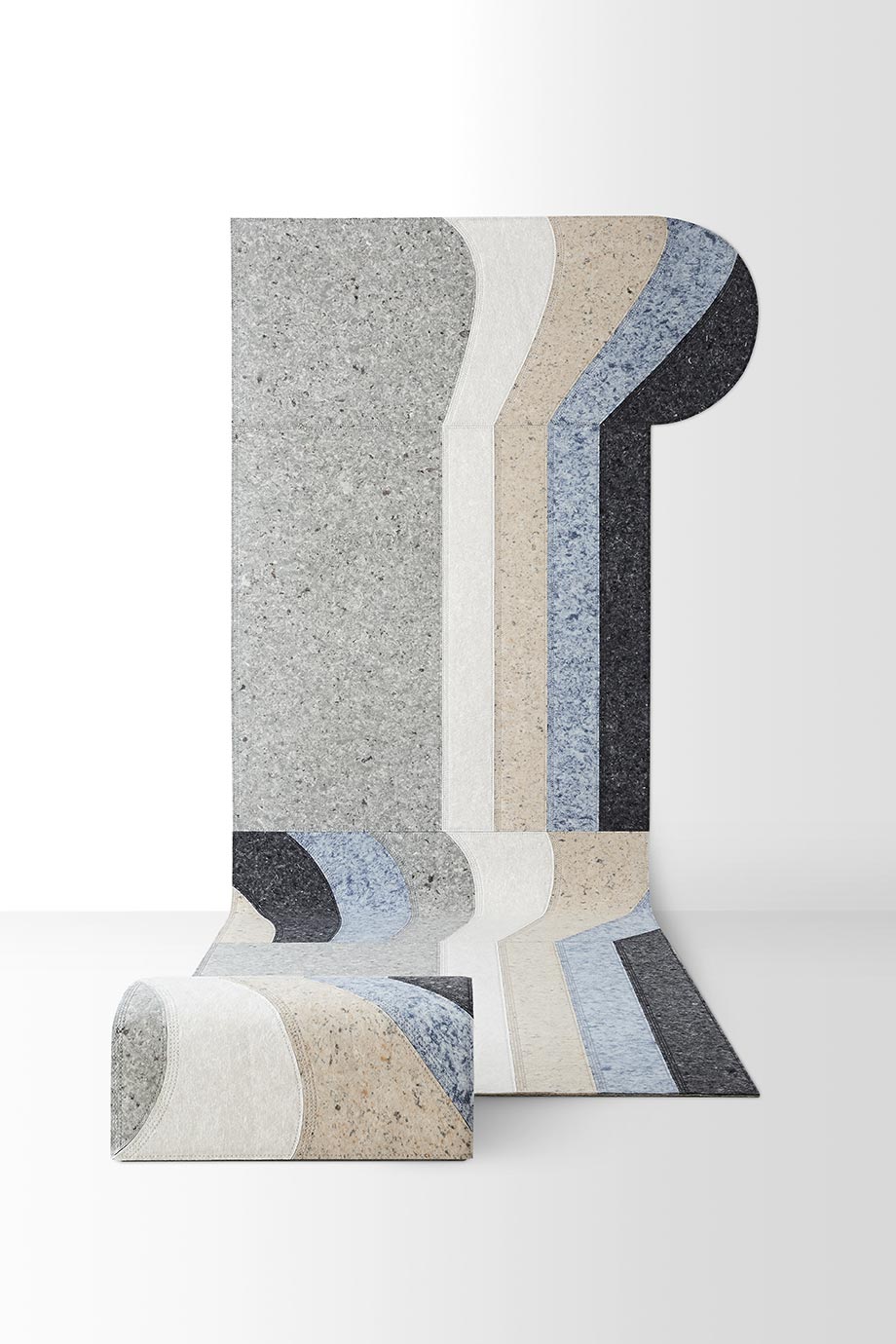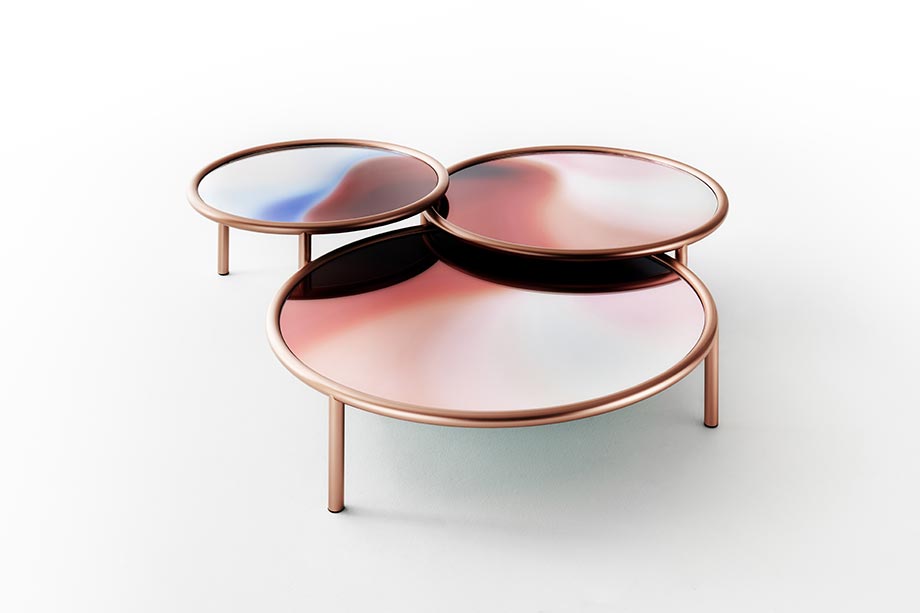 Clockwise from left: The Bow y-Sofa for Cassina has soft inviting curves, a steel tubular frame and rounded arms; the Caule outdoor light collection; The L.A. Sunset Extension tables are painted in midnight blue or copper colour .
Gogan sofa, Moroso
The sofa's curvy, oversized components reference Japanese stacking stones that become smooth over time thanks to the wind and water. The plush, irregular shape is perfectly positioned to hold its form. The bouclé fabric used for the sofa references a'70Os fabric found in the Moroso textile archive.
Il Sereno, Lake Como, Italy
The unabashedly contemporary hotel sits on top of an old boathouse; its glass-fronted fagade is in stark departure from the neighbouring Renaissance- style edifices. Urquiola has designed the interiors with sleek industrial flourishes. The lobby is dominated by a vertical
living wall, the work of French botanist Patrick Blanc. The rooms, with softly-lit bathrooms and huge beds encased in Porthault linen, all have panoramic views of the lake. was the ambassador of the Milan Expo in 2015.
When she began, she mainly focused on the product. But now Urquiola is involved in a more holistic and all-encompassing way — from what technology, material and packaging to use through to the company strategy, recyclability and how to explain the hidden values of the piece through advertising and promotion.
A long list of achievements
Urquiola has been the art director of Cassina since 2015. She is much awarded and acclaimed by her peers in the industry. Consider the range of awards she has received: a Gold Medal of Merit in the Fine Arts, awarded by the Spanish Government, Order of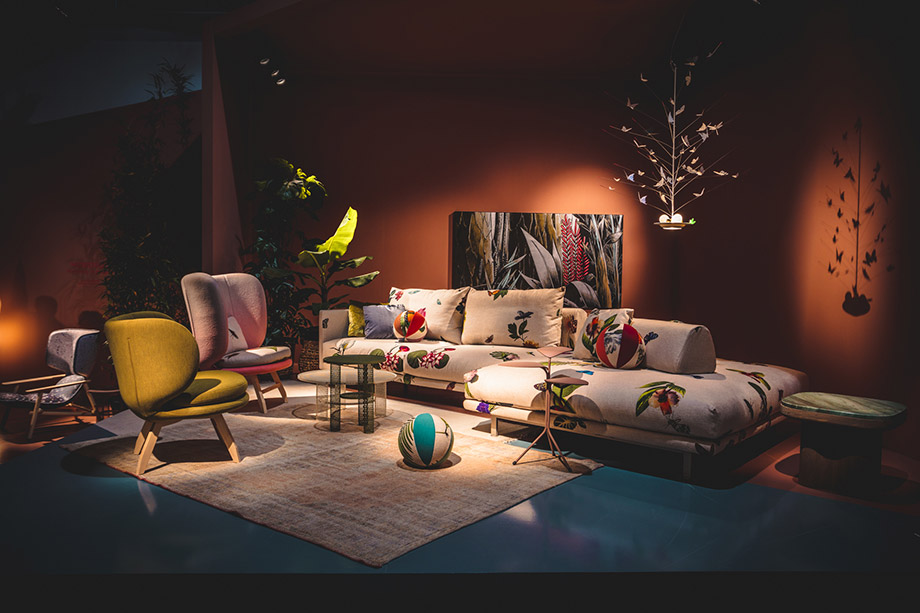 Isabella the Catholic; Designer of the Decade from two German magazines; Designer of the Year for Wallpaper, AD Spain and Architektur und Wohnen Magazine; EDIDA Designer of the Year in 2005 as well as 12 EDIDA product awards.
Some of her work is displayed in the best of world museums and collections, such as the MoMA in New York, the Musée des Arts Decoratifsin Paris, the Museum of Design in Munich, the Vitra Design Museum in Basel, the Stedelijkin Amsterdam, the Victoria & Albert Museum, as well as the Design Museum in London.
Life has come full circle for her, and the once-mentored youngster is a mentor to young designers today.
"The world of a student now is very different to mine when I was studying; the access to information has completely changed, and so has the approach to education," Urquiola observes. "Nowadays, designers and architects can learn so much from their various devices, they are constantly connected and systems have expanded and intertwined. I sometimes hold lectures at universities and institutes, and I see this change in approach. I learn a lot from them." One lives and learns, yes... but for this living legend, learning never stops.
Maria Louis is the founder editor of the decade-old Architect and Interiors India, published by ITP Media India.
For Nuances, a project in collaboration with Spanish company Gan, Urquiola reinvented felt as a material to make it more sustainable; (Left): The Moroso Stand for the Salone del Mobile 2019 reflects the simplicity of material and colour palette.
Other Similar Posts