Yasmin Karachiwala has helped some of India's biggest celebrities stay fit and fabulous. Here, she tells us what it takes to achieve the best Pilates-toned body.
- By Aparrna Gupta
How to Train Like a Star
There are many changes you'll see, but more importantly, feel. Your shape will change for the better. You'll look taller and be taller. You'll feel lighter, stronger, more energetic and happier.
It is a sultry evening and the Grand Sports Arena at The World Towers by Lodha is dotted with colourful yoga mats. Spread across two acres, the arena includes an athletic track, multiple squash courts and a football turf, with expansive views of the city skyline. It's green and airy, bang in the centre of the maximum city. The view is of the city sprawling westwards, the sea and the greens of the Mahalaxmi Race Course.
If this is not an incentive enough for anyone to come out and stretch their limbs, there is more. It's the opportunity of being exclusively guided by India's leading celebrity trainer in an engaging format — a Sundowner Pilates Camp by Mumbai- based fitness expert Yasmin Karachiwala. She holds the distinction of having trained celebrities such as Katrina Kaif, Alia Bhatt, Deepika Padukone and Kareena Kapoor Khan.
Leading by example, she sports a beautifully toned body and believes that fitness should be anything butboring in times when sitting on a chair and hunching over the keyboard has become a part of everyday life. Her book Sculpt and Shape: The Pilates Way and her easy-to-follow Instagram videos are some of her other efforts to make this form of fitness accessible to all in India.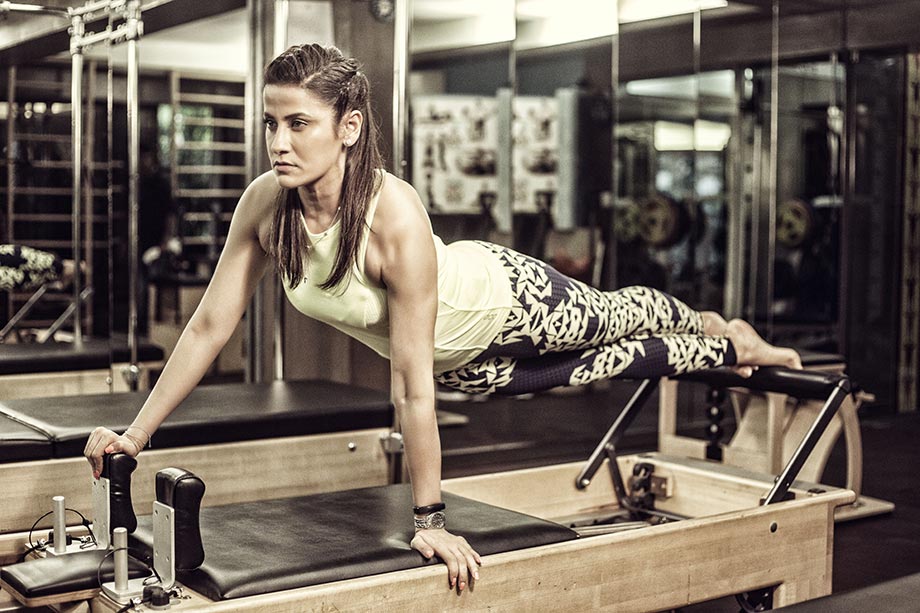 Karachiwala, a BASI certified Pilates instructor, has introduced India to several 'train-the-trainer' programmes.
Her Pilates fitness studio chain, Yasmin's Body Image, known for its celebrity clientele, innovative fitness techniques, body sculpting and transmutation, has been the harbinger of Pilates in the mainstream fitness segment in India. She takes us through her fitness journey and reveals what it takes to stay on top of the game.
Tryst with fitness
Looking at her svelte body and high levels of fitness, it's hard for me to even imagine that this economics graduate from the prestigious St Xavier's College, Mumbai was 'lazy' as a child. "The maximum sport I would take up was the shot-put and javelin throws during Sports Day because it didn't require me to move," laughs Karachiwala. "I was asked to join the athletic team in school a couple of times but it never interested me because I didn't like moving. I would be the head of march past and I enjoyed doing that because that was just walking." Fitness did not happen organically. A friend wanted to join a gym and asked her to be her gym partner. "Actually she didn't ask me, she forced me to join the aerobics class, and I did everything wrong. This embarrassed me and I took it up as a challenge. In the process, I enjoyed what I was doing and that was my first tryst with fitness." After college, she went to the US for a certification as a group fitness instructor.
What does it mean to have a healthy body?
Just because you engage in fitness doesn't mean you are healthy, she says. While fitness is a broad term that means different things to different people, it also refers to your own optimal health and overall well-being. "Being fit not just means physical health, but emotional and mental health, too. Smart eating and active living are fundamental to fitness." She contends that over the last two decades perceptions about fitness have changed. "Fitness is not about being skinny but leading a healthy life. Working out and eating right make you look and feel good."
Decoding Pilates
Things in the fitness industry are constantly evolving. "I believe a workout is good only if it offers long- term results. There is a new workout called Barre method. It has a bar with which you can do different exercises. I find it very interesting. Then there is CrossFit, which is a short but intense workout. It is very beneficial for those who don't have enough time to work out. Another workout that I can't skip mentioning is Motor. It is a form of equipment that you can travel with. It looks like a foam roller with resistance," states Karachiwala. While, like most things 'lifestyle', new trends will keep the interest in fitness alive, she plumps for Pilates.
Karachiwala is a BASI-certified (a US-based teacher training programme) Pilates instructor in India and she introduced the country to several 'train-the-trainer' programmes. Passionate about Pilates as a fitness form, she reasons, "Pilates concentrates on strengthening the body with an emphasis on core strength. This helps to improve general fitness and overall well-being. Pilates also focuses on the mind-body connection. While doing the exercises, your mind needs to be constantly aware of your breathing and the way your body moves. In Pilates, the chance of injury is much lower than with other more strenuous forms of exercise."
Similar to yoga, Pilates concentrates on posture, balance and flexibility. One of the main differences, she cites, between yoga and Pilates is that yoga can be used for improving the flexibility of the body and it will also gradually increase the flexibility of your joints. Whereas Pilates focuses on trying to relax muscles which are tense and provides strength to the numerous muscles in the body.
To get the most out of Pilates you need to understand what it is you're actually doing and why, says Karachiwala. "There are many changes you'll see, but more importantly feel. Your shape will change for the better. You'll look taller and be taller. You'll feel lighter, stronger, more energetic and happier. You'll also improve your quality of sleep; and your mind will be more focused. If you have commitment to your daily routine and discipline in your movement, your whole body will develop uniformly, giving you the quality of life you deserve."
The benefits of Pilates Good posture: The exercisesrequire that your body is always in The right training If you want a body like a star, then train like a star! "Scoring a great body is impossible without consistency. It makes all the difference when you are looking at a transformation," says Yasmin Karachiwala. Patience and discipline are the virtues that help the B-town stars get by.
"Their tight work schedules make it difficult for them to make time for exercise. Sometimes they work 12 to 14 hours a day — and at others, they are just travelling for a stretch. But to achieve a certain look for a film, they ensure that they exercise at some time of the day," shares the star trainer. She offers some tips to get started.
Know your body type: Before you plan your routine, find out your body composition as this will help you set your goals.
Warm-up: A good warm-up helps avoid any of the pulls or pains that hinder your fitness plans. Pick right shoes, keep yourself hydrated and make sure you cool down post a workout to stretch the muscles.
Pilates push: Improve your posture by including Pilates in your workout routine. It works on lengthening and strengthening your spine. alignment. This is especially beneficial if you suffer from lower back pain.
Muscle tone: It involves the use of muscles that you may not use ona daily basis. After the initial soreness, you'll find that your muscles are much more toned.
Flat abdominal muscles: Because Pilates focuses on strengthening your core, regular practice will result in a flat stomach.
Flexibility: Pilates restores flexibility that one loses with age. This comes in handy for avoiding injuries from falls.
Improves your balance: Through the mind-body connection which is taught in Pilates, you become much more aware of how your body moves and performs.
So, who needs Pilates?
With our growing sedentary lifestyle and incorrect posture, shoulder pain and stiffness has become commonplace. A lot of people only take up Pilates when they feel they need rehab, or they have an ailment of some kind due to postural issues and their working environment. However, Karachiwala recommends it as a preventative form of exercise, "Whether you are a mature person with a sedentary lifestyle, an active athlete, or a young teen, Pilates is for you. With multiple modifications, this workout can be applied to every individual, irrespective of their age or activity level."
Pilates, then, is a form of exercise that is versatile and suitable for both beginners and people who already exercise regularly.
Making it a fun exercise Karachiwala's sessions are fun and not monotonous. Consistency in fitness regime and the right lifestyle is the key to achieve the best benefits. "Challenges are good as it keeps you and your client motivated. I try to learn as many styles in Pilates that I can and try to make my own style using all of them without losing the core principle. In our country, people get so involved in making exercise interesting that they do not stick to the rules of the exercises."
Keep fitness simple
Her over 25 years of experience has taught Karachiwala that there is no magic formula to be fit, except exercising and eating right. "There are lots of home exercises you can do like squats and lunges. Challenge yourself and avoid boredom. Find an exercise partner. Schedule your workouts.
Use a journal to track your progress and jot down any breakthroughs you may have — push-ups, triceps dips, jumping jacks, Suryanamaskars, chest lifts and sit-ups. You can buy a TheraBand and do lots of free-hand exercises." If you are trying to lose weight, for it to show results, you must enjoy your workout sessions. Pay attention to what you put in your body. You can exercise for one or maximum two hours a day out of the 24 hours. What you eat or drink for the remaining 22 hours matters as much if not more.
"Don't get obsessed with your workout," she warns. "While it is important to be fit, I don't get down to extreme measures such as fat burners. Never compromise on health in the name of fitness. Do it in moderation and do it right."
Pilates, much like yoga, concentrates on posture and flexibility.
While yoga improves flexibility, Pilates relaxes tensed muscles.