10 objects and artefacts to up your home's style quotient this quarter.
- By Suman Tarafdar
Objects of Desire
Tavolini Coffee Tables,Momenti Casa
Coffee should be fun, right? The Tavolini coffee tables in unusual shapes and dimensions can be bought in charming patterns and attractive pairing of diverse sizes. Dynamic geometric patterns and pretty floral prints adorn the tabletops that are designed in various forms and are then paired with complementing tables of smaller or taller dimensions and of contrasting shades, adding a playful vibe to the living space. Here, log-shaped tops in wood come alive with solid teal blue, printed teal blue and other singular contrasting shades. Note the metal legs with matching metal heels!
ottimo.in
Jagat Complex, 354 (100 Feet Road),
Ghitorini, New Delhi 110030
Antler, Sans Souci
Inspired by the reindeer's horns, Antler, Czech lighting giant Sans Souci's new pendant light, is a conglomeration of horns of various sizes that come together to form a splendid light. An Antler in your space will make you feel like you are walking in a lush forest and taking in the sights and emotions. Designer Pavel Vytisk translates a visceral animal instinct into a glamorous lighting artwork by rendering the horns in contrasting clear crystal, black and golden variations. The light features hand-blown crystal horns and stainless steel polish, and is available in three design options.
ss-gd.com
349 MG Road, Near Sultanpur Metro Station,
New Delhi 110070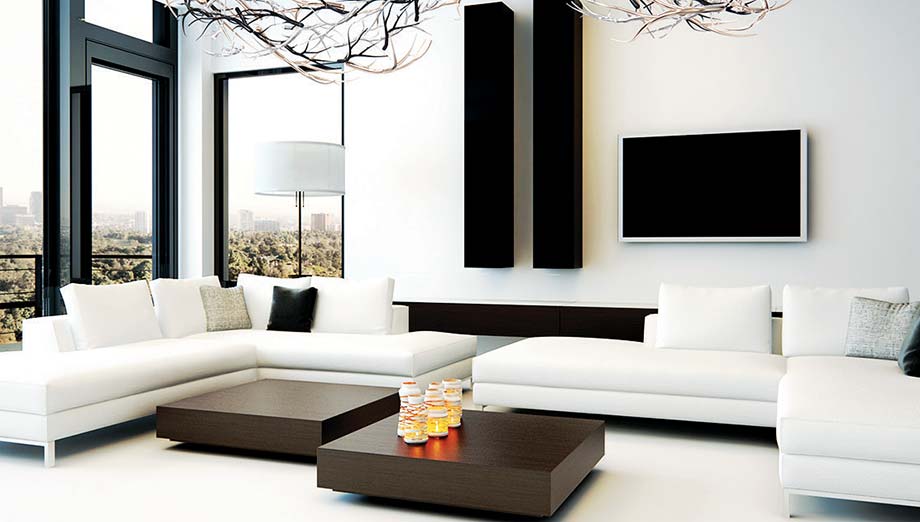 Antler, Sans Souci
Black Tie Bliss, Riedel
Riedel, which is credited with revolutionizing glassware for the enjoyment of wine, is arguably the finest wine accessory brand, especially known for its decanters. Black Tie Bliss, a fine crystal decanter with a black accent, is one of its most romantic pieces, distinguished by an elegant and complex design, adorned with a sophisticated ribbon black crystal. Each piece is unique and embodies the natural grace of a swan.
riedel.com/en/heritage/worldwide
SANSULA, 95 Mittal Chambers, Nariman Point, Mumbai 400 021.
Also on Amazon, Pepperfry, Urban Ladder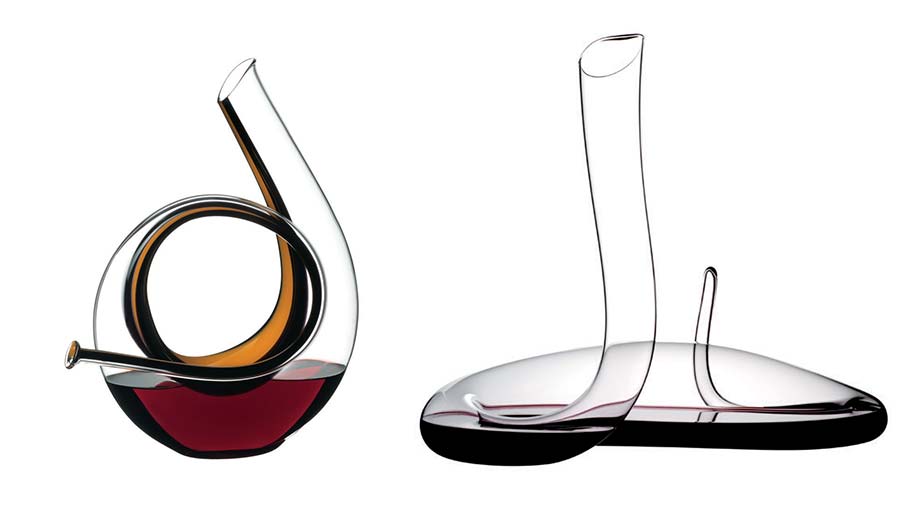 Black Tie Bliss, Riedel
The Stacking Vessels, Utopia and Utility, Sources Unlimited
This European brand combines the functional and the fantastical to hand-create objects that are unique; for instance, their signature products, the Stacking Vessels. Founded in 2012 by Pia Wüstenberg, the glass of The Stacking Vessels is made in Bohemia, in the Czech Republic, which has a strong tradition of mould-blown glass. For their limited edition collection they also work with two glass-blowers in the UK. Their new edition is a play on natural elements with man-made shapes: the branch bowl has a lid from a tree trunk with a branch stub and a bulbous glass body, which transforms it into an organic fruit shape.
utopiaandutility.eu
B-805 Hubtown Solaris, N.S. Phadke Road,
Andheri East,
Mumbai 400069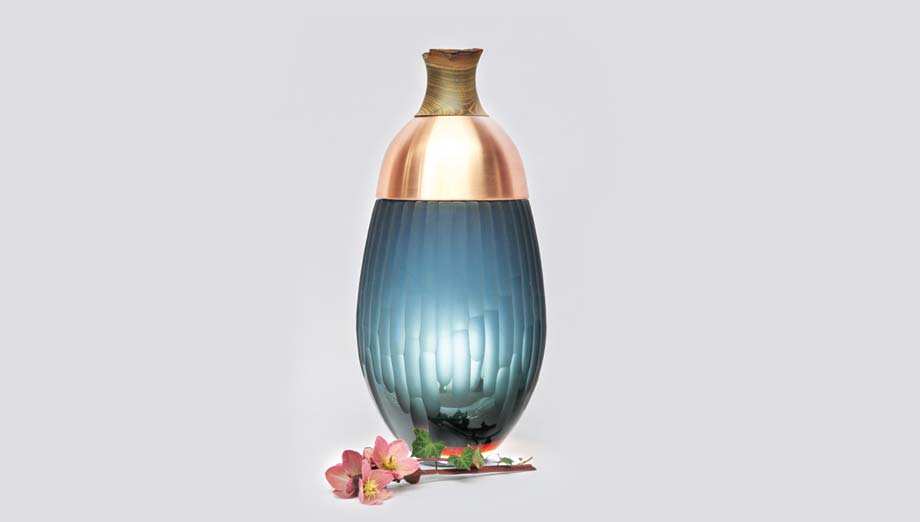 The Stacking Vessels, Utopia and Utility, Sources Unlimited
Bespoke Cutlery,
Robbe&Berking
Known by connoisseurs throughout the world as the hallmark for uncompromising and unsurpassed quality, Robbe&Berking silverware is a cut above the rest. The clients for their exquisite bespoke silver cutlery include the Russian president and the royal family of Malaysia. Their bar collection makes every drink or cocktail a small piece of art — both for casual and for fine dining. The collection is handmade from top-quality materials. High thermal conductivity of silver allows every drinking vessel to immediately assume the temperature of the beverage.
srartefacts.com
Dr Annie Besant Rd, Worli Naka,
Worli, Mumbai 400018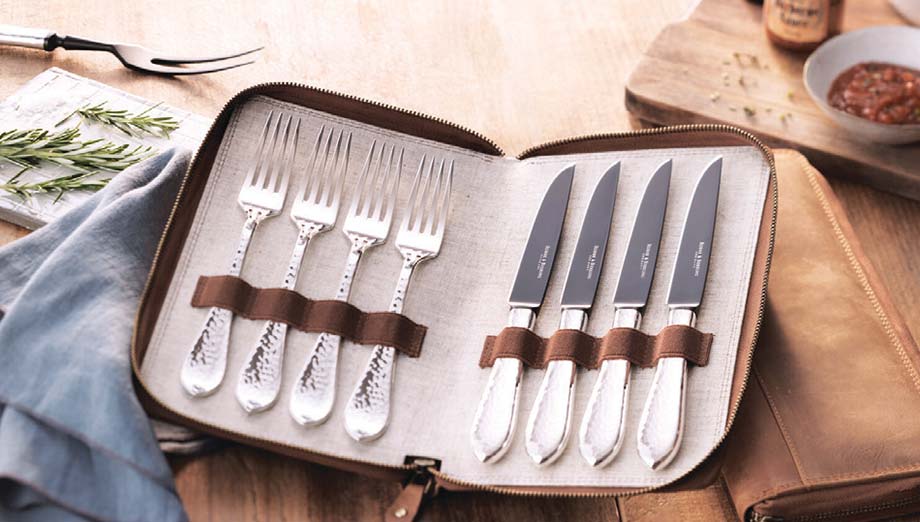 Bespoke Cutlery, Robbe&Berking
Sesto Senso, Cipriani Homood
For rooms that make a statement, modular sofas
are a new must-have. This leather sofa with lacquered base is part of the Cipriani Homood's Sesto Senso (literally, 'sixth sense' in Italian) collection. The two-toned lavish sofa is made of Nabuk leather and fabric; it features an integrated coffee table in wood, epitomising luxury and functionality. Based in the historic Tuscan city of Pisa, Cipriani Homood is known for its sophisticated designs that celebrate art and understated opulence, and the latest collection is no exception.
ottimo.in
Jagat Complex, 354 (100 Feet Road),
Ghitorini, New Delhi 110030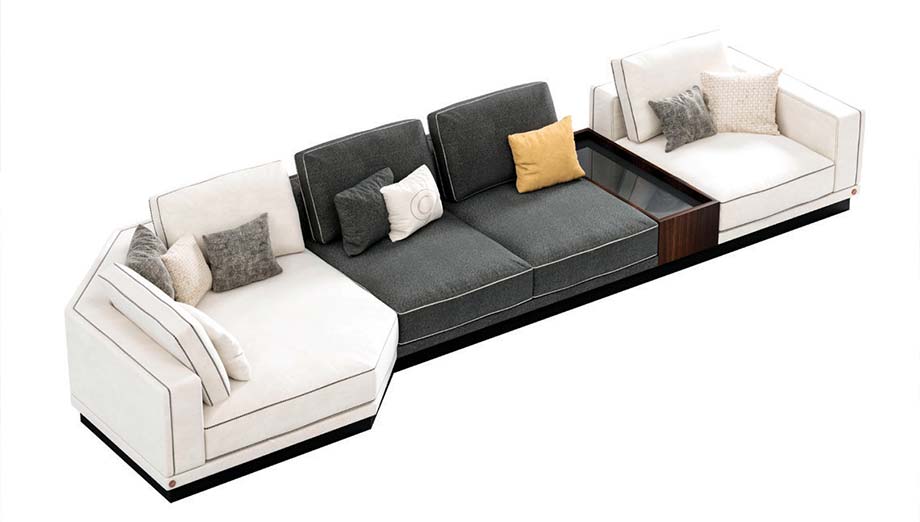 Sesto Senso, Cipriani Homood For rooms that make a statement, modular sofas
Primrose,
Sarita Handa
Primrose, the brand's cult-favourite cushions are a household name for patrons of Sarita Handa, an artistic and indisputable name in the luxury retail space in home design and decor for over 25 years. The Spring-Summer '19 collection introduces Sarita Handa's new 'aesthetic pillars' in-home art and design. Primrose is an ode to flowers manifesting the vivacity and delicacy of spring and summer. Blush tones are layered with neutral base colours. Signature zardozi thread work, French knots, appliqué work and chunky embroidery enhance the nuances of soft floral petals or angular Moroccan and Arabic-inspired patterns.
saritahanda.com
356/357, 2nd Floor, Sultanpur, MG Road,
New Delhi, Delhi - 110030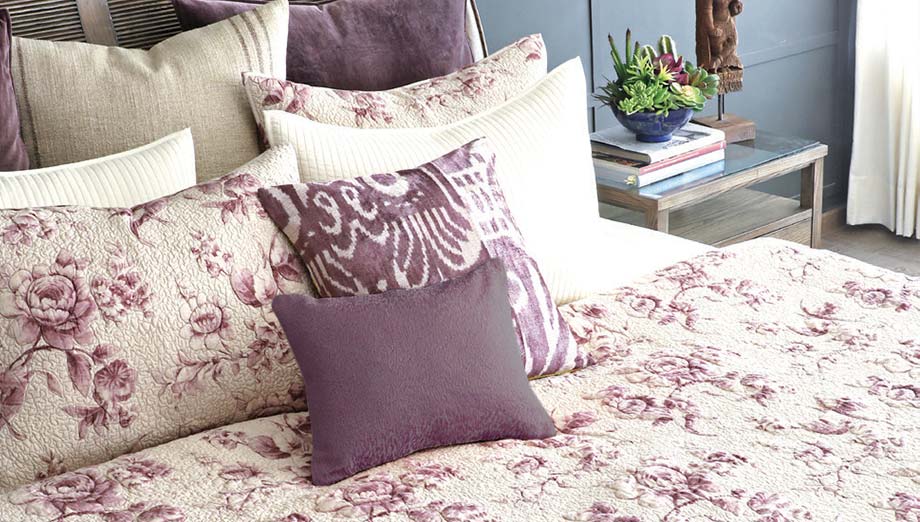 Primrose, Sarita Handa
88 Secrets Bar Rosa, Nika Zupanc at Scarlet Splendour
Bar Rosa from the stunning 88 Secrets collection by Nika Zupanc was first unveiled during the Milan Design Week 2017. It saw new pieces added to the range in 2019. Inspired by the eighty-eight constellations of stars in the celestial sphere, each piece of the collection is elegant and ambiguous. The furniture is curved and fluid, with stability and whimsicality seemingly combined in equal measure. Her newest additions to the collection showcase the craftsmanship of Scarlet Splendour, from innovative amalgamation of metal and wood to creating diamantine tabletops.
scarletsplendour.com
9B Wood Street, Kolkata 700 016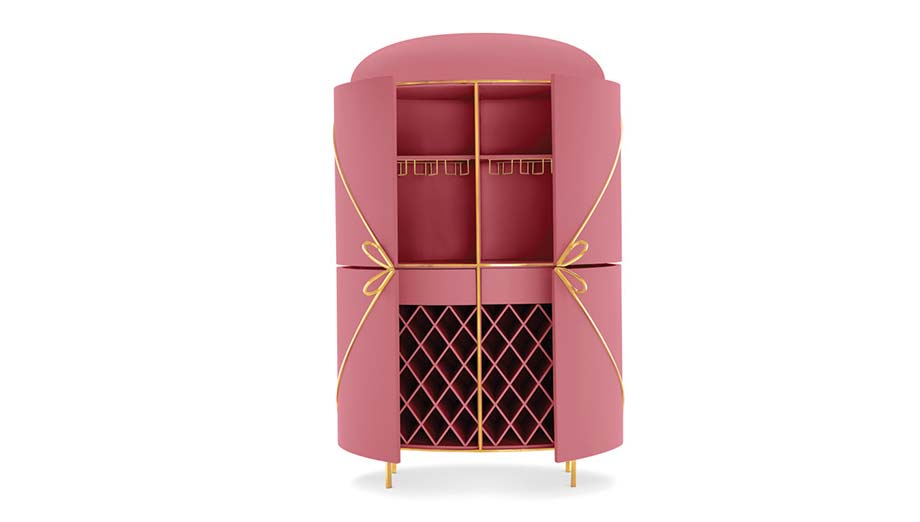 88 Secrets Bar Rosa, Nika Zupanc at Scarlet Splendour
Ocean Pearl Enamel Coasters, Baaya Designs
The Ocean Pearl enamel coasters are inspired by the depths and textures of the aquatic world. As a craft innovation, Baaya has revived the endangered art of copper enamel to create striking designs for wall art, giftware and tabletop products, using them to narrate stories of craftsmanship. Enamelling, an ancient and widespread art form, is mainly used in jewellery and decorative arts. The Persian art form involves colouring the surface of metals by fusing brilliant glass powder colours on it.
baayadesign.com
Prathamesh Tower, Raghuvanshi Mills,
Lower Parel West, Mumbai 400013.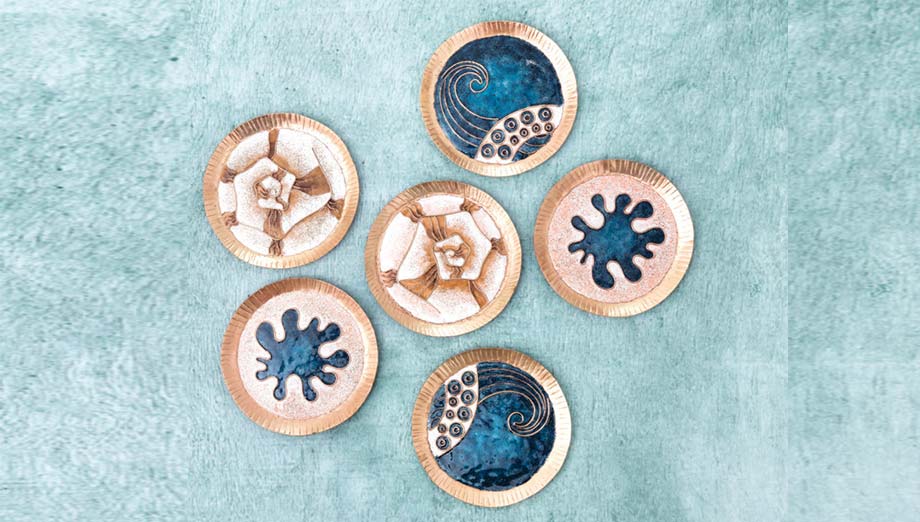 Ocean Pearl Enamel Coasters, Baaya Designs
Pink Palace, Jaipur Rugs
Pink Palace, a rug from the graphical collection called Jaipur Wunderkammer, by Matteo Cibic, captures the city's captivating architecture. This hand-tufted carpet has been made in Mirzapur, Uttar Pradesh, using wool and viscose. Jaipur Rugs and Cibic collaborated on this vibrant collection, which is inspired by the latter's travels across the city. He drew inspiration from ancient paintings and the architectonic sundial in Jantar Mantar.
jaipurrugs.com
349 MG Road, 1st Floor, New Delhi-110030.
Sunmill Compound, Lower Parel,
Mumbai 400013.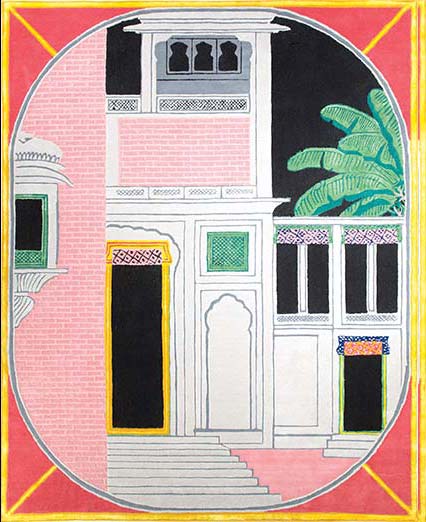 Pink Palace, Jaipur Rugs