By Aparrna Gupta Photographs - By Bajirao Pawar
At Home with Books
Amish Tripathi lives surrounded by his enormous book collection. If not at his luxurious study at home, he spends time at The Library at The World Towers by Lodha, writing, reading and browsing through its eclectic collection, which incidentally, does not have his books because they "get borrowed and rarely returned".
The Library in World Towers by Lodha is a booklover's paradise, even more so on a manic morning in Mumbai. The huge French windows look like a majestic painting of grey skies and the city's eclectic skyline, perfectly balanced by the elegant and cosy décor. The setting is enticing enough for someone to pick up a book and browse. Since it doubles up as a café, you can sip on some hot tea and order some finger snacks before you get into the groove. As I spend a few minutes (being before time) soaking in the vibe, I understand why author Amish Tripathi selected this spot for the interview.
The café-cum-library is serene, elegant and welcoming. On the shelves all around is a varied collection of non-fiction and fiction books. A happy resident of The World Towers by Lodha, Tripathi finds The Library to be his oasis in a busy and chaotic Mumbai. By his own admission, he loves coming home to the complex, which he calls refined and aesthetically stimulating. However, 'The Library' is his favourite nook. The space offers him the requisite peace in which he can think and gather his thoughts, and don't be surprised if you walk in and find him penning his words there. Any place that has books, makes him feel at home. Surprisingly, the shelves are lined with all the bestsellers but his own books are conspicuous by their absence. Quiz him, and Tripathi jokes that the titles have been placed thrice in the library, but they get picked up and are never returned. This speaks a lot about the stupendous popularity of his works.
The Library is the space he picks for a chat with me about, well, his favourite corner in The World Towers and his literary career. An urban legend in the literary world, Tripathi is among the top 100 celebrities in India listed by Forbes. This banker-turned author's first attempt at writing – The Immortals of Meluha – was rejected close to 20 times, and that's when he decided to take to custom publishing. Rest, as they say, is history. His debut book turned out to be a blockbuster, and its success debunked the publishing trends that Indian mythology doesn't sell. His marijuana-smoking Shiva became the talking point and much to the delight of his readers, he wrote two more books — The Secret of the Nagas and The Oath of the Vayuputras, completing the Shiva trilogy — which holds the record of being the fastest-selling book series in Indian publishing. His unique ability to keep his heart and mind in balance can be deduced from the fact that he resigned from his corporate job only after his second book, when his royalty cheque was more than his salary cheque.
He believes, to lead a good life, you need a balance between your head and your heart. "Use your heart to decide the destination, but use your head to plot the journey." A reclusive author, he comes out of his hiding only during book promotions. His latest work, Raavan: Enemy Of Aryavarta, third in line in Ram Chandra series after Scion of Ikshvaku and Sita: Warrior of Mithila, is questioning the concept of evil and is on its way to break the records yet again. An early riser, he wakes up at 5:30 am, to exercise, do his pooja, read four newspapers and sit down to write by 9:30 am. He has often said that life in the Tripathi household is largely elemental; they follow the natural movements of the elements—sun, earth and the moon and accordingly try and imbibe the discipline followed by their ancestors. In a freewheeling conversation over a cup of green tea at The Library, Tripathi discusses everything — from inspirations behind his writings to his thousand-book library in his home. Those who have stepped in there say that it resembles a luxurious lounge, with transparent curtains falling from a high oakwood ceiling and round sofas with colourful cushions. It also offers an enviable view of the city's skyline.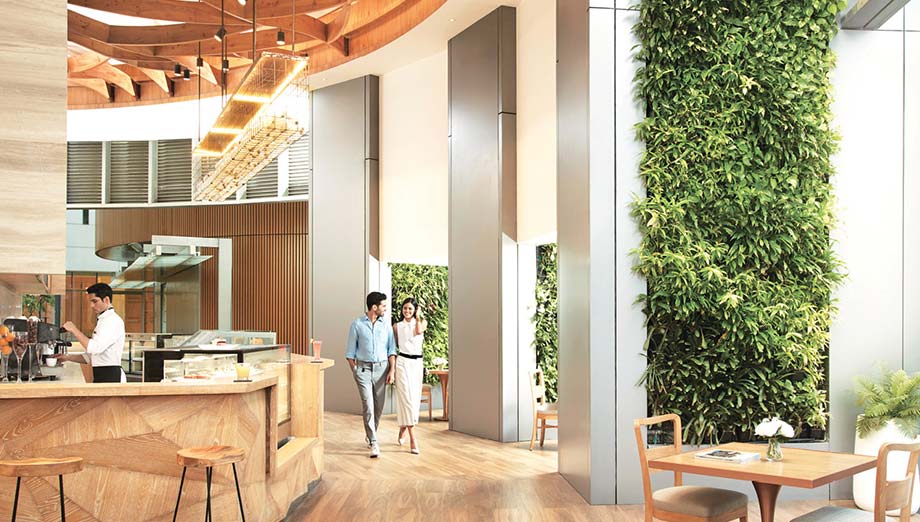 The huge French windows of The Library at The World Towers allows natural light to flood in and offers views of the city's eclectic skyline
Are you a disciplined writer or a spontaneous one? What role do spaces play in getting you in a writing mode?
I have converted a room in my house into a study. That's my ideal spot. Whenever I am home, I go to that corner in the house and work. But I am not limited by spaces and can write anytime and anywhere as long as there is music playing. I love music and I listen to all and any genre —Indian classical, Hindi film music, regional music, world music, Western rock, Western pop. When I am listening to music, words don't matter so much. I just zone out the words; it's only the tune. The mood of the tune has to match the mood of what I am writing. If it's an angry scene, I need a rhythm with certain aggression. For instance, the song Kaise Mujhe Tum Mil Gayi from Ghajini is supposed to be a love song, but for me, it's a tune of intense rage. I need music to stir up emotions and I need cream biscuits. Many readers come with biscuit packets and say, yeh lo, jaldi likho.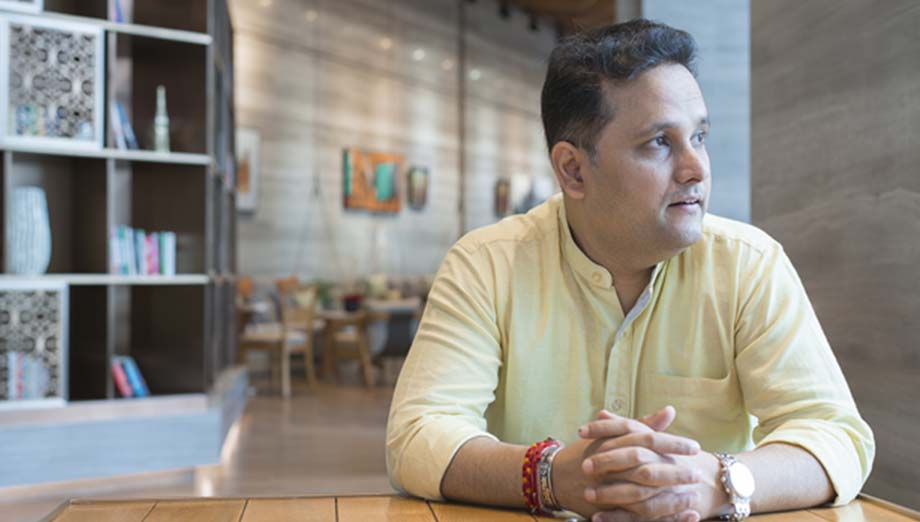 What makes for a perfect library — is it the collection of books, the vibe or even the space that can inspire people to sit back and read a book?
I love visiting bookstores and libraries and browsing through the books. Of course, the space and the way it is designed should be such that it encourages people to pause and flip through the titles and pages. In my family, we end up reading books that we recommend to each other. Everyone has a thousand-book collection. I have two libraries, one in my house and the other in my office. Reading, especially in times when we are so distracted, helps us to focus. People used to say Kindle will wipe out physical books, but that hasn't happened. Not even in the West. We may be buying more from online stores but we are also buying physical books. I love the feel of the pages of a book. I use my Kindle when I am travelling or when I want access to foreign books, which take a long time to get delivered.
Was the shift from a successful banker to a full-time author as thrilling as you thought it would be?
No. Never. I had never written any fiction before The Immortals of Meluha. Not even in school. I was a complete left-brained, academically-focused guy. I was active in sports as well — boxing, gymnastics, but was never creative. The only creative thing I ever did was to be a lead singer for our band in IIM Kolkata. But I never wrote the music. The writing started as a philosophy thesis. It was a discussion between my family and me, and we were talking about what constitutes evil. In fact, most of my school and college friends refuse to believe that I have written those books. I was just going with the flow and I wasn't thinking where this take me. There is a lot to learn from our ancestors. I am not saying that they were perfect. Nothing ever is. In the Indian way, even the divine is not considered perfect. I genuinely believe that it's Lord Shiva's blessings. My job is to honour a blessing.
What inspires you to write about Indian mythology?
You tend to write books in an area you possess some knowledge in. I grew up in an environment where mythology was part of our life. My grandfather was a pandit (priest) from Kashi, and I grew up in a deeply religious and deeply liberal family. Indian mythology is one of the most liberal, but we don't know much about it and we don't appreciate our heritage. Often, bravery is the other side of stupidity, and the only difference between bravery and stupidity is a success. While writing the first book, I wasn't really thinking about success.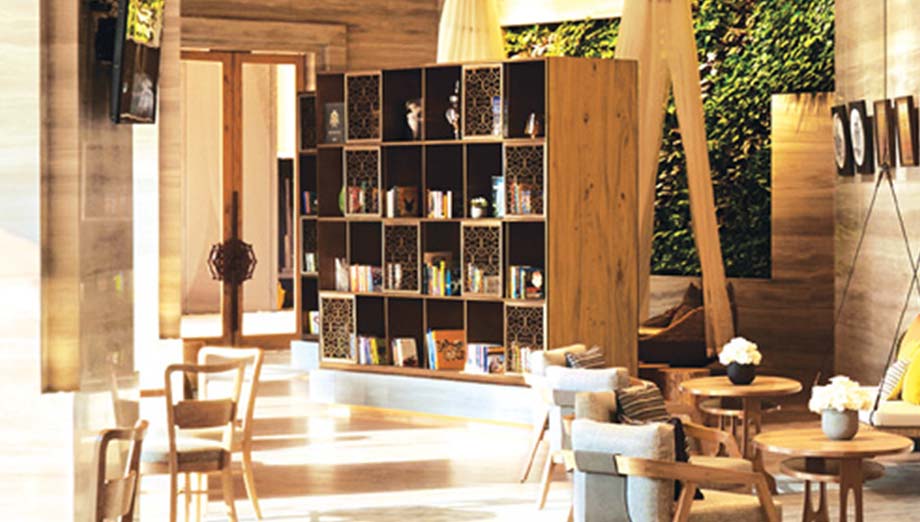 "I have converted a room in my house into a study. That's my ideal spot to write in. But I am not limited by spaces and can write anytime and anywhere as long as there is music."
What has been your family's reaction to your liberal interpretation of Indian mythology?
My grandfather used to say, when you read our texts there is no way that we won't be liberal. The first chapter of the Natya Shashtra talks about how important freedom of expression is. It's not a Western-imposed value. Liberalism is our value.
Does mythology also connect to your childhood memories?
Again, I have learnt not to over-analyse emotions. One of the things in Nav Rasas is the belief that there is a space for gyan but emotions should not be over analysed. You spoil it then. Just enjoy it. Going with the flow could be seen as living in the moment or as a weakness, since you are not in control. For me, this part of my life, when I am writing is the best, and I notice I enjoy the process only when I completely surrender or let go.
"In my family, we end up reading books that we recommend to each other. Everyone has a thousand-book collection. I have two libraries, one in my house and the other in my office. Reading, especially in times when we are so distracted, helps us to focus."
In your latest work Raavan —Enemy of Aryavata, why is it that one of the most dreaded villains of Indian mythology is your leading protagonist?
As compared to other villains we see in movies and books today, who tend to be unidimensional aggressive thugs, Raavan actually had a lot of depth and complex layers. For most modern Indians, the image of Raavan, based on some television series, is very simplistic. Our ancestors were more open-minded, liberal, much more kick-ass than us. In the ancient and original versions —Anand Ramayan, Adbhut Ramayan, Ramayana Darshanam — the strengths and weaknesses of Raavan are depicted, and not just his dark side.
He had his weaknesses, no doubt; he was an exceptionally violent man with a massive ego, but he was also a scholar and a brilliant musician. Sorry to use this term, but his violence was also scholarly. If he beheaded a man, he would stand aside and observe the way the blood flowed out, because the heart doesn't know that the head isn't there anymore. His greed, and not just his ego, made Raavan what he was. He had huge capabilities, but his flaws — no anger-management at all, massive ego and acquisitive nature — isolated him. Somewhere, this reflects in the times we live in.
How is Raavan relevant in the age of millennials?
Our generation is the most capable humanity has ever seen but we are also the loneliest. If you go by self-declared statistics, we are also the unhappiest that humanity has ever seen. So, we have tremendous capability but we are ripping Mother Nature apart. Middle classes have material comfort today that even our kings and queens wouldn't have dreamt of earlier, yet we are all unhappy and we are lonely. Are we leading the lives of Raavan in some ways? Why is loneliness a disease across much developed, freedom-loving societies? We don't have to go on the other extreme and start fetishizing poverty as our grandparents' generation did. That there is nobility in not wanting anything is not logical. But don't swing to the other extreme where you are defined only by the brands you own, only by the house you have, what model car you own. I am not saying those things are not important, but if you aim to be defined by them, you won't be happy, so what's the point?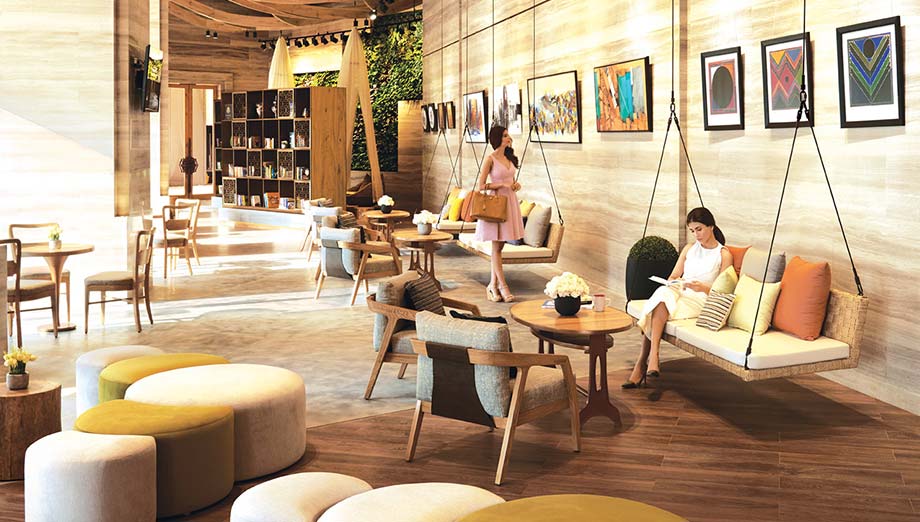 "The café-cum-library is serene, elegant and welcoming. On the shelves all around is a varied collection of non-fiction and fiction books. It offers Amish Tripathi the requisite peace to think, write and reflect."
Which is the book that has impacted you the most?
I feel if there is one book that has impacted you, it means that you haven't read enough. There should be hundreds of books that should have impacted you. I read five to six books a month, so to give an all-time one book is impossible. Of the books I have read recently, the one that has left an imprint is —Vada, a non-fiction written by Radha Vallabh Tripathi, incidentally not related to me in any way. It studies the knowledge system and debating traditions of ancient India, which sadly most modern Indians have forgotten. It shows what the secret of our success is. What we prized the most was knowledge, which is why we were the most innovative, most scientific, most wealthy nations for much of human history. Vada tells you how we created that culture of devotion to knowledge. For devotion to knowledge, you must respect freedom of expression, freedom of questioning.
Amish Tripathy's books, from the Shiva trilogy to the Ram Chandra series, are mandatory reading for anyone wanting to understand the rich mythological heritage of India. His books help you understand India's rich mythological fabric, and are based on his deep understanding of subjects such as religion, mythology, tradition, history, heritage, contemporary societal norms, governance, and ethics. In Immortal India: Young Country, Timeless Civilisation he lays out the vast landscape of an ancient culture with a fascinatingly modern outlook. All his books capture this timeless essence.
Other Similar Posts