Sanjiv Mehta, Chairman and MD, Hindustan Unilever Ltd. and President, Unilever, South Asia, on what makes life special on the 57th floor of The World Towers by Lodha.
- By Deepali Nandwani
The House of Memories
"What we like about The World Towers are the amenities — the spa, the sports facilities, the sky lounge, the restaurants, as well as the unbeatable views."
From the 57th floor of The World Towers by Lodha, the views are a microcosm of Mumbai. They skim over the old mills of Lower Parel, some of which still stand though shut for years, right up to where the two railway lines, the lifeline of Mumbai city — the Central and the Western — intersect before moving in different directions. Beyond that is the gritty Eastern Seaboard, right now overcast with monsoon-laden clouds. From another part of the house, the view skims over the greens of the Mahalaxmi Race Course.
It is these sweeping, picturesque views that frame Mumbai at its best — not just the chic and sophisticated South Mumbai, but even the old-world appeal of Central Mumbai, which made Sanjiv Mehta, Chairman and Managing Director, Hindustan Unilever India (CHUL) and President, Unilever, South Asia, opt for shifting homes from "somewhere between Pedder Road and Altamount Road", to The World Towers in Worli. "We areas well as the unbeatable views."succors for good views. From the 57th floor, we get at least a 200-degree view of the city — from east to west."
That, and the amenities, he says. "We got a glimpse of The World Towers' lifestyle potential when the team introduced the project to some of us living in Dubai, at Burj Khalifa, a few years ago. What had appealed to us as family were the world-class amenities — the spa, the sports facilities, the sky lounge and the restaurants in the neighbourhood."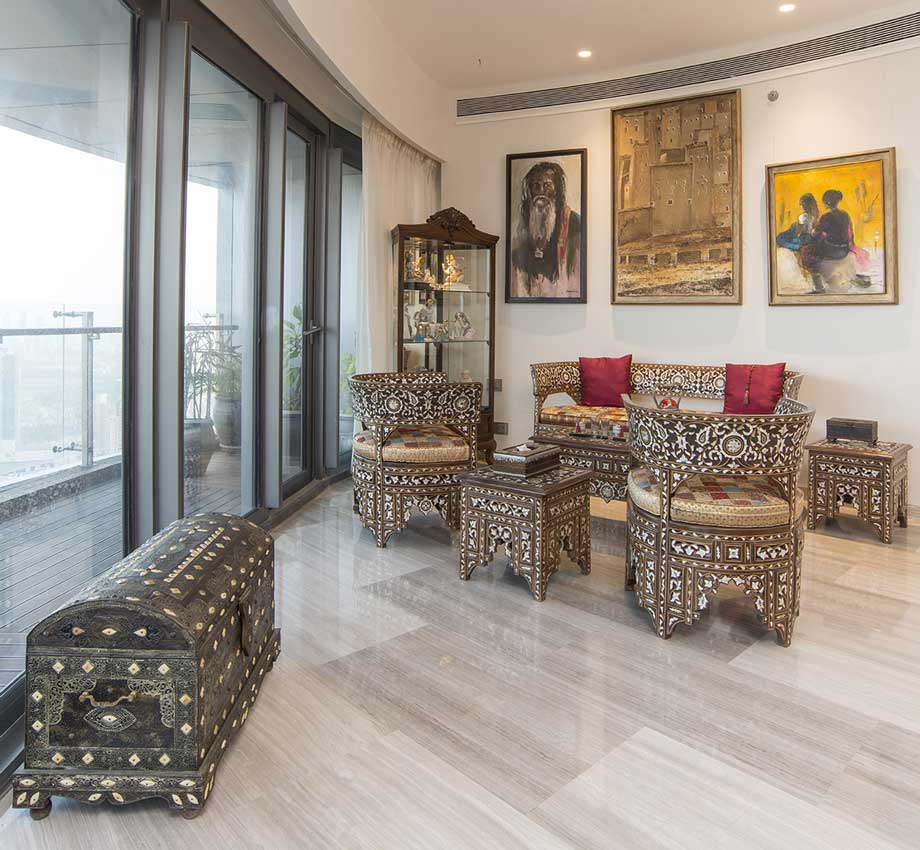 The Mehta family — Sanjiv, his wife Mona, and their daughters Naina and Roshni have lived across the world. They also own what Mehta calls a 'classic beach home' at Palm Jumeirah. While Naina works in Dubai in the field of digital transformation, Roshni, his younger daughter, studies in Boston; both visit when time permits. "We were looking for a home that, in terms of ambience and amenities, would match the best in the world. We love the sports complex at The World Towers — the squash and tennis courts, the walking tracks and the gym. We also enjoy the spa on the 6th level."
It has just been two months since Mehta shifted in. "We first bought one apartment, but felt that was too small for the family needs, so we bought another one and made it into a jodi apartment," he says. His sprawling home is a tribute to the countries he has lived and worked in, and the continents he has traversed. It has a vast repertoire of art, classic furniture and antiques that his wife and he bought during their several journeys and stays in different countries.
The Mehta couple is not minimalist at heart: their home reflects their passion for interesting furniture, art and design. "We own paintings and furniture from different parts of the world — from Spain to Syria, Morocco to the Philippines. There is character and history in every corner of the home." The dining table, for instance, is crafted out of Narra wood, a species native to several Southeast Asian countries. Every part of Mehta's house is a visual interplay of art and furniture.
BetterLife coloured wood is heavier and hardier than teak, and as expensive. And it is banned in the Philippines. "The table was made using the beams of some old houses," he says. A few other pieces of furniture are from Syria. "I used to head North Africa and Middle East, and I often travelled in the region — from Beirut to Syria, through the Damascus mountains. Syrians make beautiful furniture with mother- of-pearl inlay. We have a stunning sofa set." The Mehta family also owns a few exotic camel skin tables from Morocco. "The entire belt of Syria, Tunisia and Morocco is rich in culture and culinary traditions."
The Mehtas are passionate collectors of art and their repertoire is extensive. "We collect what appeals to our senses and what we would like to see adorning our walls," Mehta insists. Amongst his collection is a painting by Bangladeshi artist Kanak Champa, who works with acrylic and depicts the life of ethnic migrants in her country. "We were among the first few to put up one of her works at our house in Dhaka. Now, she is an international sensation." Among other works he mentions is a painting of his wife and two daughters by a father- son artist duo from the Philippines. "Our collection includes artists from Saudi Arabia, Morocco and from eastern India. Recently, I bought a beautiful painting of Nandi from an Indian artist."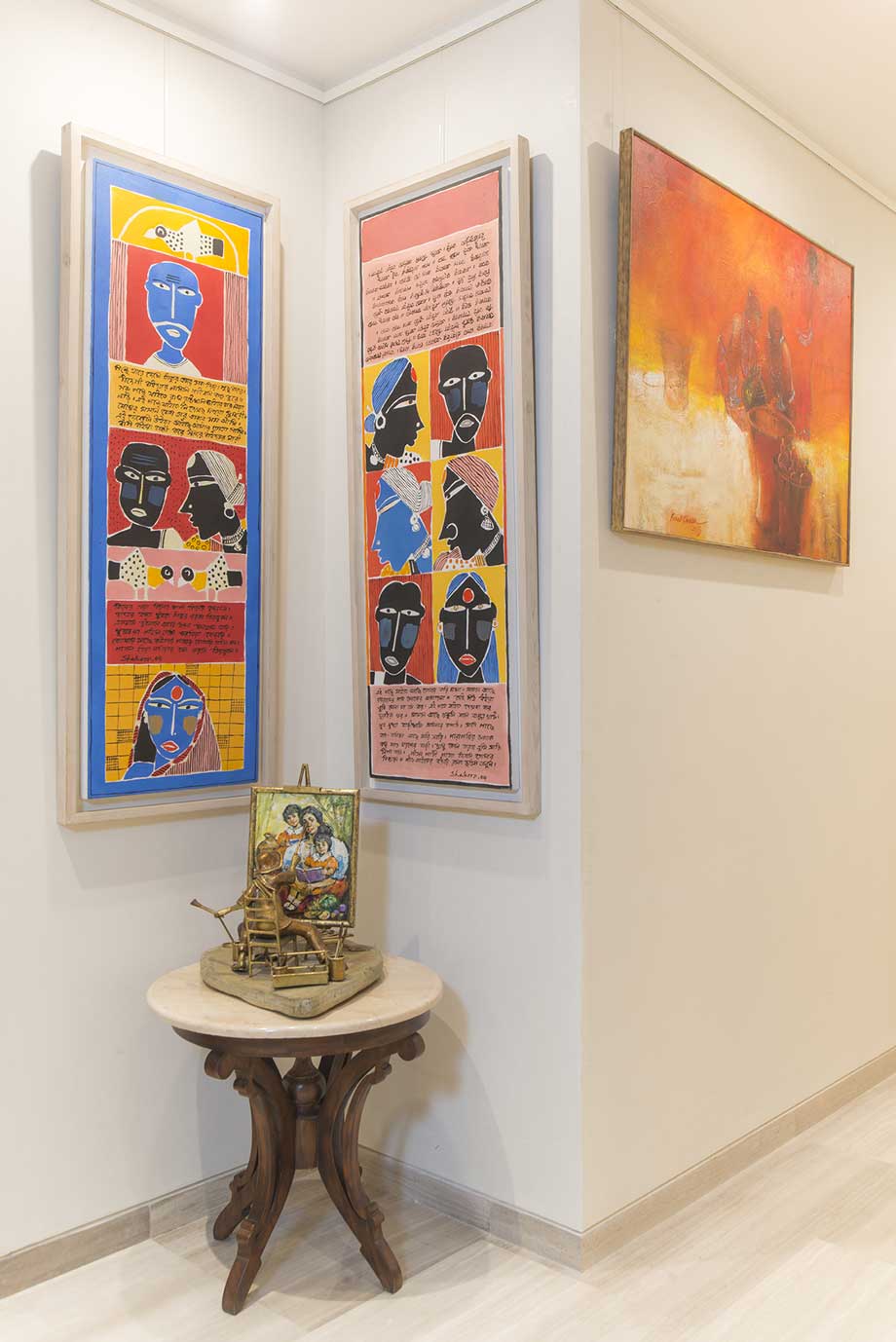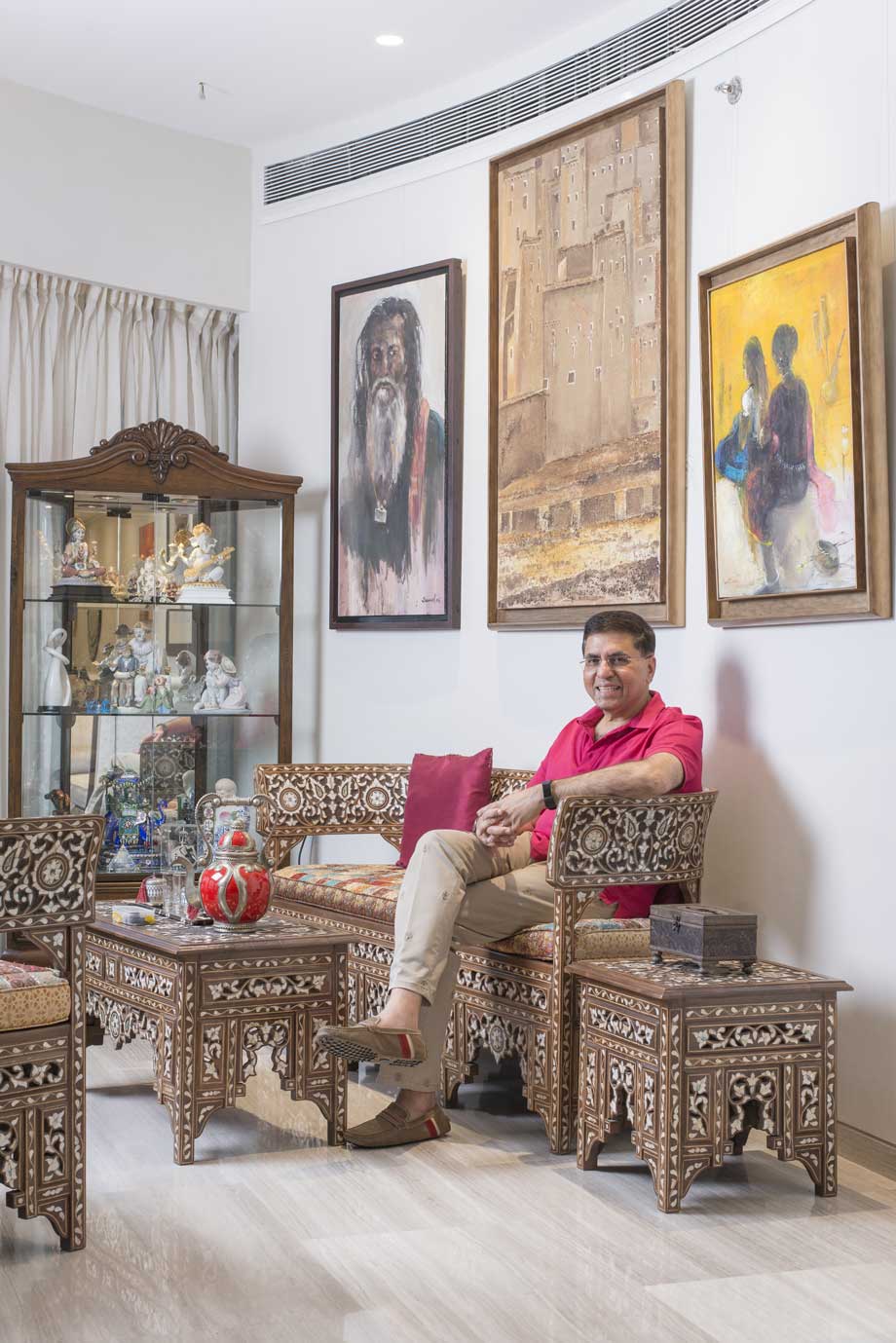 "If you look at the furniture and art from Morocco, you see a fascinating blend of Arabic and French influences."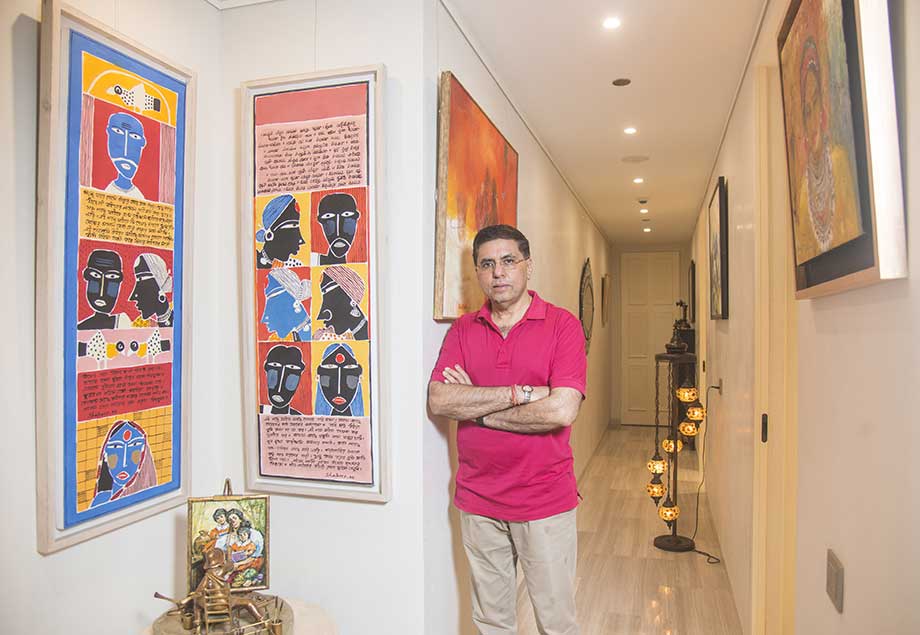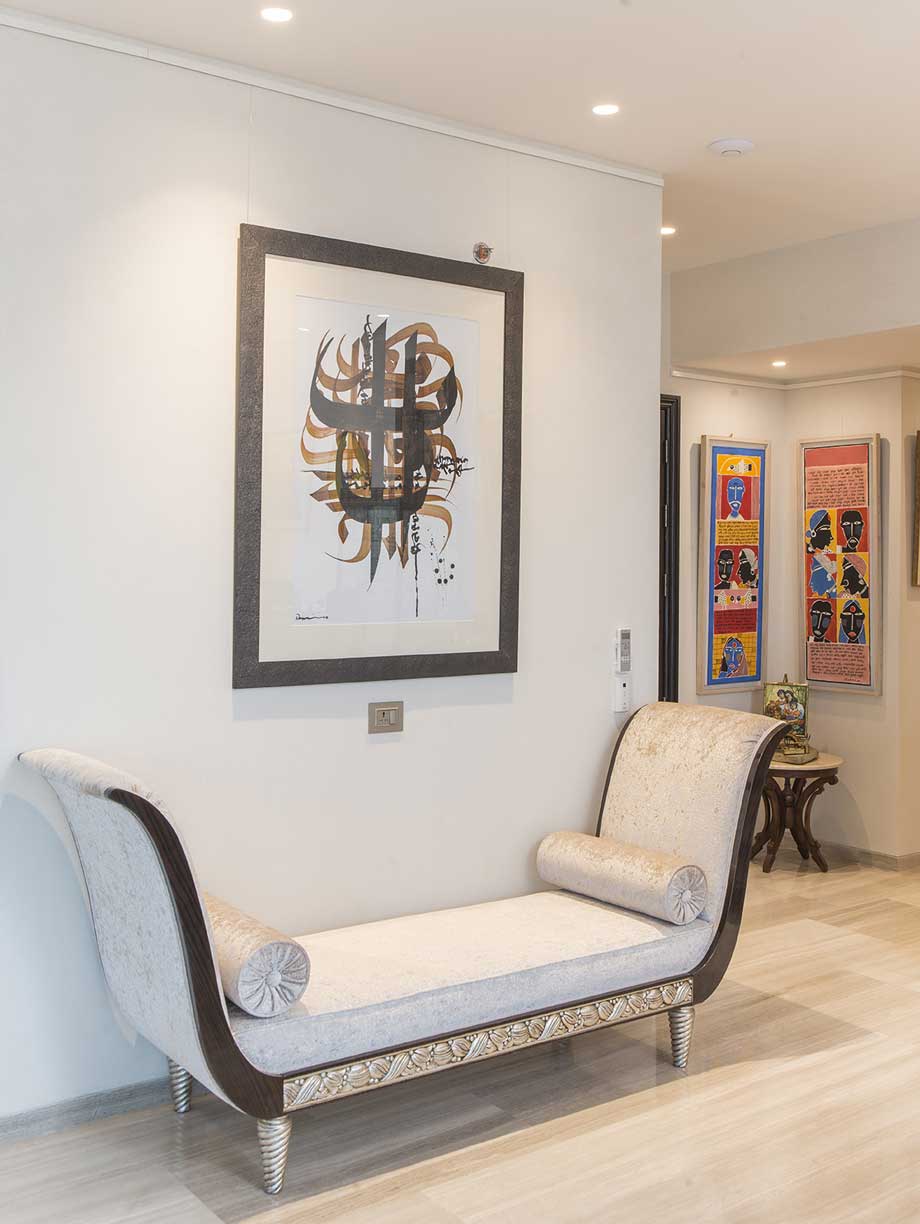 Every part of Mehta's house is a visual interplay of art and furniture.
A painting he bought in Marrakech is a few decades old and depicts traditional houses built on rocks. One of his prized possessions is an almost 100-year-old Tanjore painting from a palace near Coonoor. He bought it from an antique dealer recommended by his predecessor at HUL.
While every part of his house is a visual interplay of art and furniture, Mehta's favourite corner is his study. "Tt has my favourite felt leather chair and tonnes of books, since my entire family reads a lot. In the morning,I make my tea. I drink a Lipton Yellow Label blend from tea that comes from Kenya and Sri Lanka. Mona and I start the day by reading the important newspapers, Indian and foreign. I read alot, from regular magazines to MIT Sloan Management Review, Harvard Business Review and books."
Despite his current interest in digital transformation, particularly as HUL's chairman and MD, Mehta eschews technology when it comes to his reading habits. "There is nothing to replace how a book feels in your hand," he says.
The conversation again veers from art and books to the stupendous views. "We drink our early morning tea to the view of the sun coming up in the east. The sundowner is at the western side of the house, watching the sun go down." For Mehta, monsoons are even more magical a season from this height. "When we were staying on Pedder Road, we could see clouds envelop the top few storeys of The World Towers in monsoons. Now, our house comes under this cloud cover," he smiles.
Other Similar Posts