There is a lot of excitement centred on the emergence of smart cities. But what exactly is a smart city? We decode the concept using Palava, one of India's most vibrant developments in the genre, as an idea.
- By Rupali Sebastian
Future Perfect
The 20th and 21st centuries represent huge changes for mankind, in terms of industrialisation, technology, scientific knowledge, the economic landscape, demographics and such. Entwined within these changes was the growing awareness and concern centred around scarcity of resources, pressures on the environment, extreme polarity in wealth holdings and accelerated urbanization. Indeed, if the world was becoming smaller, our cities were becoming bigger and the commute to work longer.
UN's Sustainable Development Goals (SDGs) for 2030, which succeeded its Millennium Development Goals (MDGs) for 2015, embody these concerns. While MDGs were about development and addressing problems, SDGs are about engendering sustainable development and addressing causes of problems. Another crucial difference is the keen focus on new technologies.
Which brings us to smart cities. 'Smart' is commonly connected to technology. So, is a smart city based solely on technology? Research shows this is not the case. While the technological revolution has a great deal to do with how things are done, technology is a facilitator in, and not the objective of, the ecosystem of a smart city. Josep-Ramon Ferrer, the former director of Barcelona's Smart City Program and former Deputy Chief Information Officer at the Barcelona City Council, identifies factors beyond information technology that are crucial for creating a truly smart city. In his report, Barcelona's Smart City Vision: An opportunity for transformation, he states: "This revolution is about how we can get the most out of the new Internet-based technologies in a distributed knowledge and globalized network model, and build the cities of the future, taking all areas into consideration: economic, social, cultural and political."
"Ranked first among a list of 10 satellite townships studied in detail for their livability quotient by JLL, Palava strives for affordable housing, better amenities and infrastructure; a healthier city that endeavours to create happier inhabitants."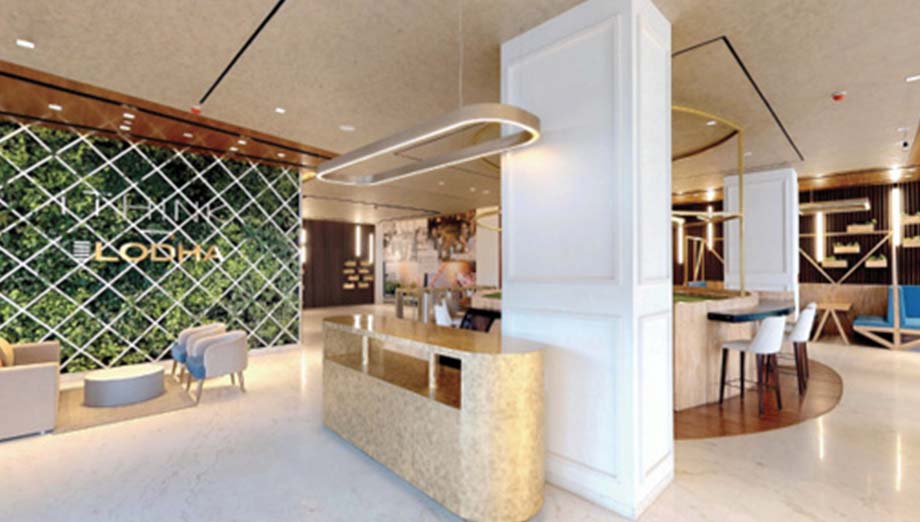 iThink by Lodha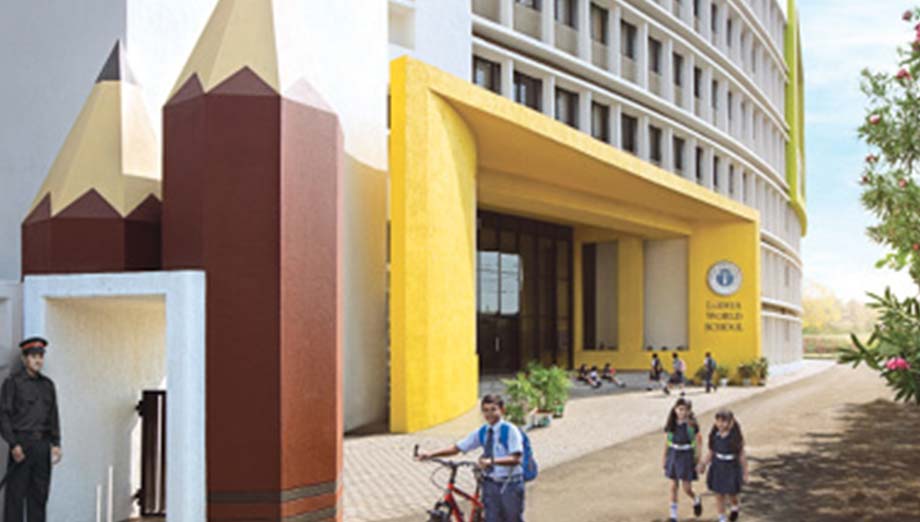 The city offers several education institutes, such as The Lodha World School
In the Indian context, urban areas are expected to house 40% of India's population and contribute 75% of India's GDP by 2030. Therefore, such developments become critical in the view of sub-par infrastructure and facilities that saddle most cities, and the burgeoning, often ill-planned, mofussil areas that emerge in response to the lack of affordable housing within established cities. The Government of India's Smart Cities Mission recognises this need of the hour. While it refrains from describing the concept of a smart city in definitive terms, the mission acknowledges that, "in the imagination of any city dweller in India, the picture of a smart city contains a wish list of infrastructure and services that describes his or her level of aspiration". The purpose of the Smart Cities Mission, it says, is to recalibrate existing areas into better-planned entities and encourage greenfield developments to absorb expanding populations in a manner that improves its liveability quotient.
"Smart cities, as defined in India's Smart Cities Mission, hold immense importance as they are aimed at making cities citizen-and-environmentally friendly, economically strong and sustainable for future populations," states Ketan Kulkarni, Principal Planner, Surbana Jurong, the Asia-based global urban, infrastructure and management services consulting firm, which was closely involved in Palava, a first-of-its-kind Indian smart city development initiated the Lodha group. "Putting people first, smart cities tap a range of approaches —digital and information technologies, urban planning best practices, public-private partnerships, and policy change — to make a difference. Their impact is enormous as they translate to an improved quality of life and increased investment, setting in motion a virtuous cycle of growth and development for the country," he says about the significance that such developments hold for social and economic energisation. "In planning for a smart city, it is critical to take into consideration three factors —contextual definition of high quality of living; pragmatism in assessing environmental sustainability; and market conscious approach in driving a competitive economy."
There is a lot of excitement centred on the emergence of smart cities. But what exactly is a smart city? We decode the concept using Palava, one of India's most vibrant developments in the genre, as an idea.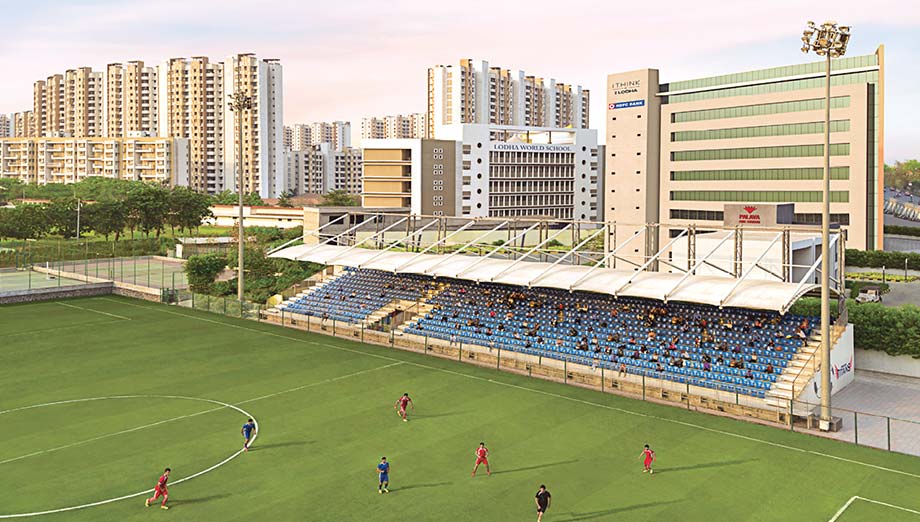 Palava boasts a FIFA standard football pitch, complete with an artificial turf, floodlights, changing rooms and stands for spectators.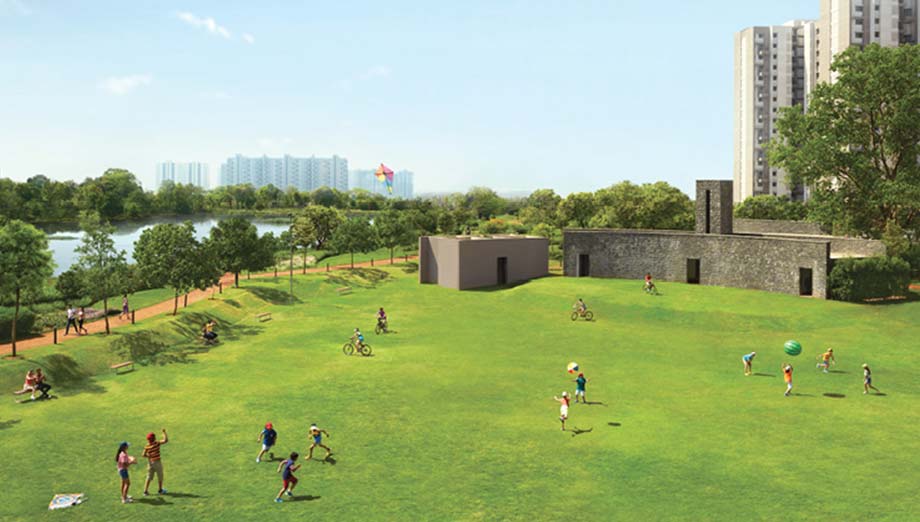 The park next to the river is perfect for families to hang out, while the kids are at play
Aniket Bhagwat, principal architect at one of India's premier landscape design, master planning and architectural design firm, Prabhakar B. Bhagwat — which is responsible for Palava blossoming into the well-planned development it is today — says 'smartness' of a smart city isn't "rocket science. It's a simple endeavour to make life better. There's really no precedent to Palava. Cities, normally, are funded and planned by governments. But this is a private venture on an unprecedented scale, a game-changer". Ranked first among a list of 10 satellite townships studied in detail for their livability quotient by JLL, Palava presents a vibrant result of such an aspiration — a development striving for affordable housing, better amenities and infrastructure; a healthier city that endeavours to create happier inhabitants. Fuelled by Lodha's overarching vision of Building a Better Life, it dovetails world-class academic institutions, well-maintained lung spaces, art and cultural venues, sport facilities and career opportunities into a fulfilling environment. "After seeing many cities across the world, we've discovered one fundamental truth: great cities are those that offer great opportunities," emphasises Shaishav Dharia, CEO, Lodha. "Palava isn't just the stuff of wishful thinking; it's the result of intensive urban planning."
The emphasis is on planning
A well-designed smart city requires 'visionary' planning as opposed to 'reactionary' planning, expounds Kulkarni. "This is the ability to anticipate the city's future needs and put in place systems and infrastructure before the city requires it," he adds, stating that Palava is designed to emulate the successes of metropolises such as Singapore and London, which display a combination of high density and high livability. Palava's location illustrates the predictive approach that Kulkarni mentions. Occupying the centre of the economic triangle of Thane, Navi Mumbai and Kalyan, the smart city is within easy reach of a number of existing and upcoming road and rail infrastructure projects that reduce — and will further shorten — travelling time to the main city of Mumbai, its sister city of Navi Mumbai, the neighbouring industrial agglomerations and the upcoming international airport in Navi Mumbai.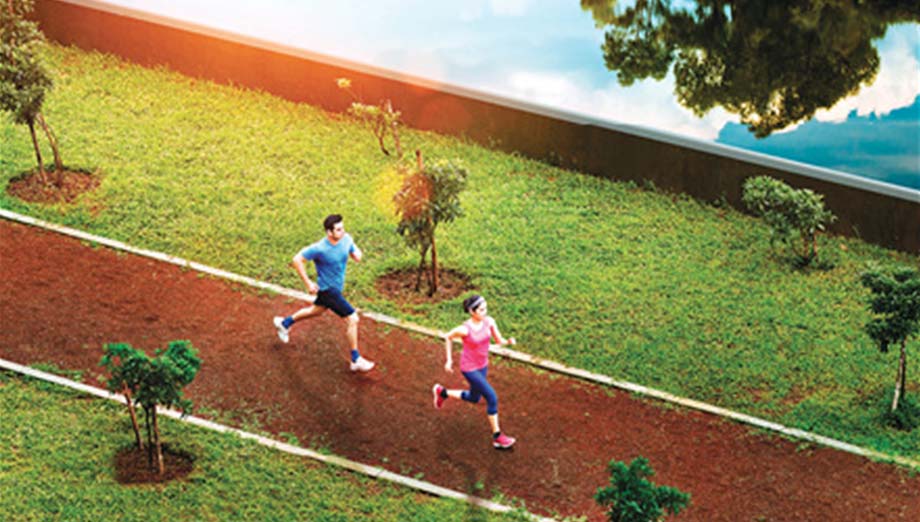 The city's layout, based on New York's 'gridiron' structure, was chosen to facilitate orderly urban growth for generations to come.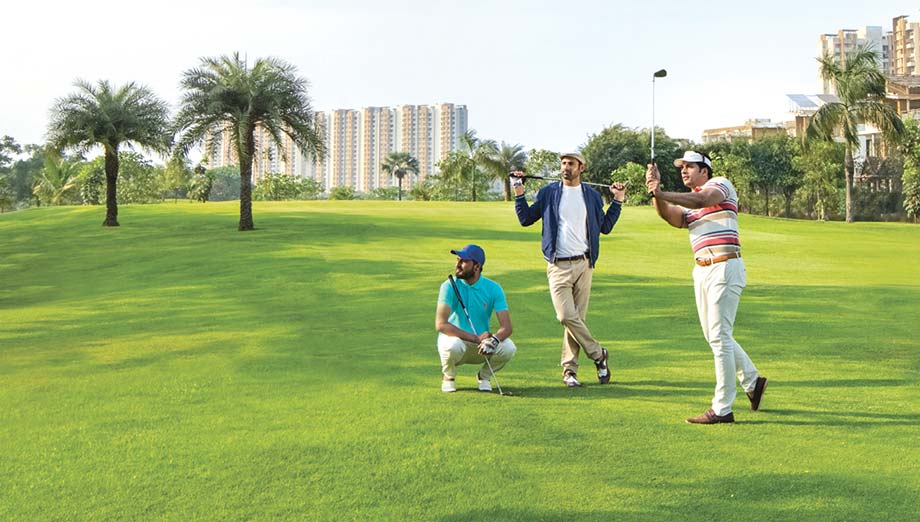 "Occupying the centre of the economic triangle of Thane, Navi Mumbai and Kalyan, Palava is within easy reach of a number of existing and upcoming road and rail infrastructure projects."
- Shaishav Dharia, CEO, Lodha.
Within, the vision to be a liveable and sustainable city manifests itself in the way residential units are deployed as neighbourhoods with clubhouses, schools, medical facilities, green zones and places of spiritual fulfilment. "Every home is no more than a short walk away from everything you need to live a fulfilling life," elucidates Dharia. "The city's layout, based on New York's 'gridiron' structure, was chosen to facilitate orderly urban growth for generations to come." For instance, the parking, convenience stores and public transport stops are at a distance of five minutes from your home; schools, clubhouses and religious buildings are located 10 minutes away. A mere five minutes more and you can access the business district, spaces for amusement and cultural centres. "The fact that people can get out and access everything easily and safely… using broad tree-lined avenues interspersed by congregation spaces, facilitates interaction in a secure manner." This is planning at its granular level, he adds. The 'smart' planning is also based on intelligent predictions about changing lifestyles. "With emerging technologies and changing norms, it is important to ensure that Palava is planned to be future-ready," explains Kulkarni. "Increasingly, people are working remotely from home and using Personal Mobility Devices. Anticipating a declining vehicular ownership, parking facilities are consolidated at a few locations and stacked within multi-level car parks (MLCPs) to minimise their footprint and fulfil the local parking norms. These MLCPs offer the adaptability to be repurposed into an amenity space. A dedicated non-motorised transport (NMT) network is planned to seamlessly connect areas where citizens live, work and play. With the rise in electric vehicles and bicycles, provisions for electric vehicle charging points will also be made at MLCPs."
The balancing act
One of the crucial traits of a smart city is its ability to negotiate the fine line between growth and sustainability — a balancing act Palava performs by adopting a compact and urban mid-rise form. "[This] optimises strategic land for real estate development [and] frees up land for green and amenity spaces," highlights Kulkarni. "The green spaces act as 'soft infrastructure' to detain the storm water within the site and prevent its inundation during floods. Natural bio-swales are proposed along the streets and open spaces to improve water detention capacity of the site. A continuous city-level riverfront green space is also conceived as a flood mitigation measure, which would be raised above the high-flood level." Palava is planned with 1.5 to 2 sqm net usable green space per person — 50-100% higher than that in Mumbai. Sustainability, emphasises Bhagwat, is not a laundry list to be checked off. "Palava integrates it into its very philosophy." Of the several fruits of the prudent resource management, water provides a telling example. "In a situation where the neighbouring cities faced water cuts in the summer, Palava was water surplus," he reveals. "The city has partnered with companies such as General Electric and SunEdison for water and energy management respectively. The MLCPs are crowned by solar panels and this electricity is used to power infrastructure facilities." In addition to such city-level endeavours towards environment-friendliness, building level ones, too, have been effected through envelope design, especially by paying attention to cross-ventilation, a crucial factor in ensuring user-comfort given the region's hot and humid climate. "Palava's urban blocks are permeable by their design; oriented towards predominant south-west wind so that open spaces and streets between urban blocks act as funnels to channel wind into the buildings," explains Kulkarni. "The orientation of urban blocks and streets help to reduce solar insulation and assist mutual shading of building surfaces. The combined effect would result in reduced ambient temperature and increased comfort levels. Orientation strategy alone can lead to substantial energy savings by minimising the need for mechanical ventilation. The rest relies on the use of appropriate 'solar passive' architectural themes to be adopted in design."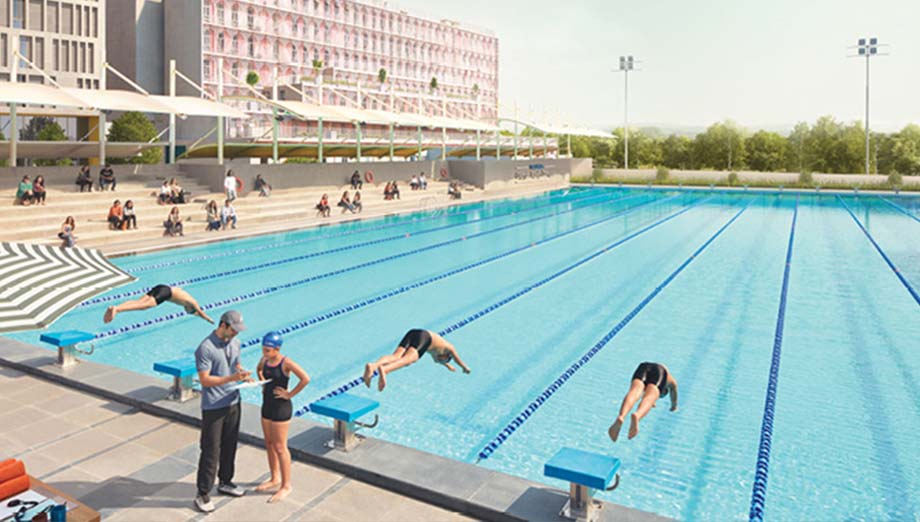 The Olympic-sized pool is a stellar example of the sporting facilities
The technology powering Palava
While the 'smartness' of a smart city is not attributed to technology alone, it is nevertheless a pervasive presence, contributing to resource management and security, besides working as a facilitator in myriad user-centred applications. "The web portal mypalava.in enables citizens to take care of their needs as efficiently as possible, such as registering problems and tracking them, monitoring children through live camera feeds, booking sports and clubhouse facilities, checking transport schedules, and offering information about the cultural events that Palava hosts. The Palava Smart Card, given to every citizen, is used as an ID card for secure access to private areas," he contends.
How citizens contribute
Engagement and participation of citizens — who may have historically faced bureaucratic inertia when it comes to matters of good governance — in an inclusive manner is aimed at inculcating a sense of ownership. In Palava, this has taken the shape of Palava City Management Association (PCMA). "PCMA is responsible for everything: ensuring uninterrupted and stable power at lower costs, formulation of city policies and providing cost-effective services," reveals Dharia. "The presence of citizens in this body will create an inclusive ecosystem of end-users and experts. The result: an organisation that offers the efficiency of the private sector with the commitment of a not-for-profit."
While clubhouses are a mandatory part of neighbourhoods in Palava, A-grade malls, shopping streets, multiplexes, nature parks and an impressive 2.3km-long riverfront development offer several choices for downtime. Lodha World School, Pawar Public School, The Shri Ram Universal School, TSUS, and the soon-to-be-operational Lodha World School (CBSE) are equipped to inspire and mould young minds. Palava's upcoming multidisciplinary university, which will be affiliated to international academic titans, is also expected to catalyse economic growth. "The growth of a city strongly depends on its ability to start creating jobs independently," reveals Dharia. "Palava aims to have an economy of $10 billion by the year 2025. Lodha's iThink was designed to be a future-ready office campus in Palava. Its unbeatable location and a high-tech workspace has made it an ideal place for businesses." Truly, as Kulkarni says, it isn't about smart cities being the future of planning as much as it is about smart planning being the future of cities.
Palava Tarang, a festival of music, dance, theatre and more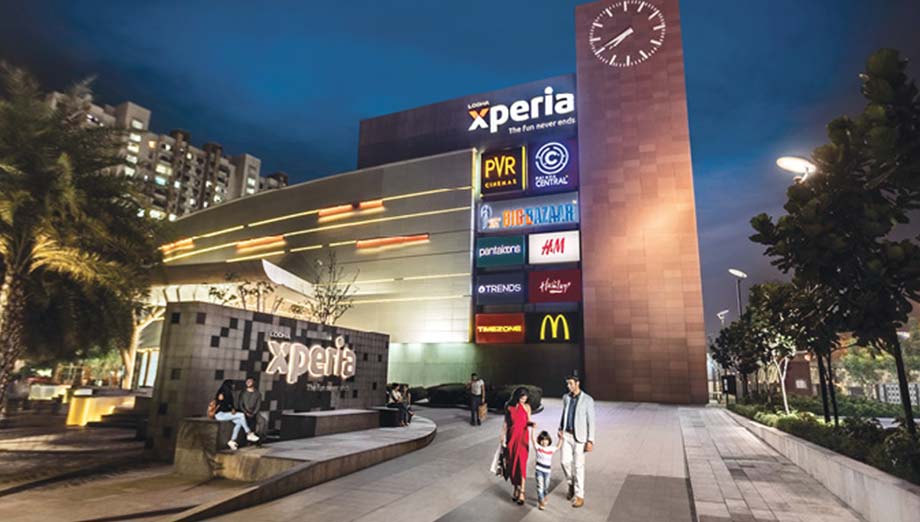 From shopping malls to business districts, the planned city is a microcosm of the changing urbanscape
A sustainable lifestyle
Palava's master plan has been lauded by JLL's Livability Quotient report for offering a high livability quotient through healthy social infrastructure retail establishments, theatres, gardens, open spaces and sports facilities.
Among the soft infrastructure that Palava has assiduously developed, waterfront energisation through rejuvenation and build-outs is a leading feature of interest.
Having been blessed by the presence of Ulhas river, Palava has worked towards building a 2.5km-long riverside promenade — much like Singapore's Clark Quay, with its bistros and restaurants — and over 50 acres of leisure space.
Palava is planned with 1.5 to 2sqm net usable green space per person. Private gardens and playgrounds are staples of each neighbourhood.
Within the master plan is a focus on the 'cityscape'.
To alleviate monotony, the planning plays with different configurations of building clusters and height levels, evident in the Phase II of the development, which is a good example of this strategy.
Other Similar Posts