1How a quartet of chefs and restaurateurs combined innovation with an imaginative mix of seasonal produce, home recipes and regional cuisines from across the country to create two of the best restaurants in India
Bombay Canteen and O Pedro.
- By Bhisham Mansukhani
An Idea Called Bombay Canteen
The Bombay Canteen in central Mumbai has been around for less than five years now and its sister restaurant, O Pedro, at the Bandra-Kurla Complex, less than two. But they are already rated among the country's best-known restaurants. In the most recent Conde Nast Traveller ranking of India's best restaurants, TBC features at No.2 and O Pedro at 8. Last year, TBC was ranked no.1 in the same ranking. And in a coincidence, the bars at the two restaurants also ranked no.2 and no.8 in the inaugural MW-Tulleeho 30 Best Bars in India 2019 ranking in October.
It all began five years ago with the coming together of the vision of three individuals who wanted to set up an Indian restaurant far removed from the template that existed till then. Mumbai-based Sameer Seth and Yash Bhanage, friends and Cornell University graduates, who dreamt up the idea of an Indian restaurant, had worked in restaurants in New York and Singapore respectively. "We wanted to fill the void left between the traditional set-piece and the lurch to modern­—the authentic cross between street fare, home recipes, as well as the canteen fare that feeds the city's toiling working class," Seth says. "The vision was to steer as far away from the stereotypical and predictable. We also wanted to celebrate local cuisine from across the country and imbibe a philosophy of wholesome cooking with local ingredients to create a fun, casual place," Bhanage recalls. Seth's mentor, Chef Floyd Cardoz, who'd enjoyed tremendous success in New York with his signature approach to Indian food which he materialised with the restaurant Tabla, coincidentally had the same novelty of approach.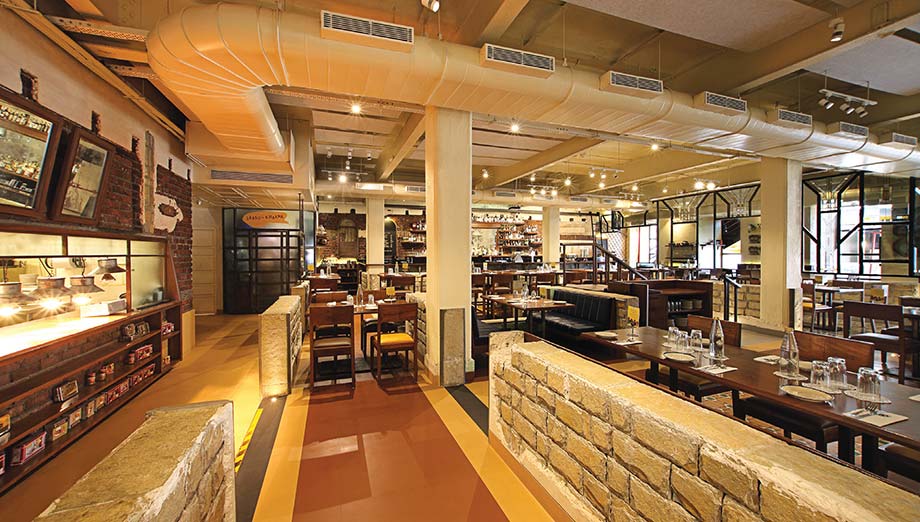 The Bombay Canteen is celebrated for its eclectic take on indian regional cuisine
"We wanted to fill the void left between the traditional set-piece and the lurch to modern­ — the authentic cross between street fare, home recipes and the canteen fare that feeds the city's toiling working class." Sameer Seth, co-founder
Chef Cardoz, who incidentally, grew up in Goa and Bandra, in Mumbai, says he has always wanted to do a restaurant that discovered, rediscovered, and reinvented regional Indian food in new ways, without losing its essence. So when Seth approached him, he was more than game and thus began a collaborative journey, rigorous scouring of local recipes and ingredients, and the search for a resident chef to create a restaurant that Cardoz terms as 'fun, Indian, regional'. He recalls, "It wasn't just the pursuit of the culinary romance of opening a restaurant in India after being away for 30 years. There had been other approaches in the past, but with this project, chemistry and a common vision cinched the decision." But this wasn't going to be an Indian restaurant in the vein of what had gone before. The menu wouldn't resemble anything that local diners had grown accustomed to. Local was the central focus for The Bombay Canteen (TBC), with everything revolving around it. Vegetables, meat and fish were sourced strictly from within a 150-mile radius. So, for the first 18 months, TBC didn't serve salad till a lal bhaji, beetroot and paneer salad came together in the kitchen. Sesame and mustard oil trumped olive oil.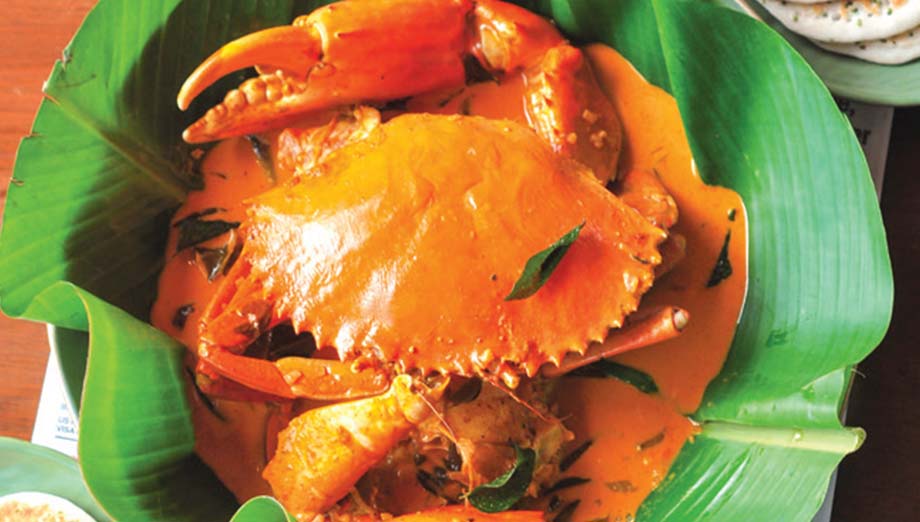 Jumbo Crab Mappas Curry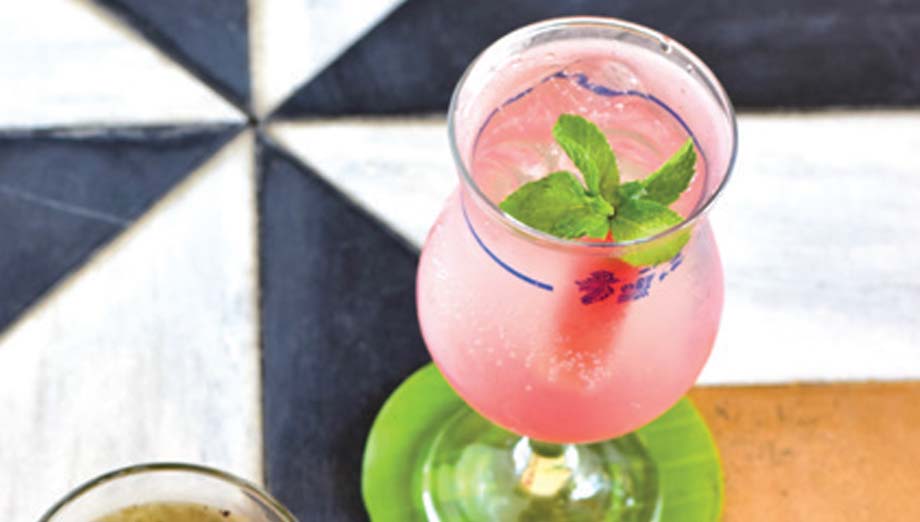 Drinks inspired by Chettinad spices
TBC's menu is populated with dishes that imbibed lal bhaji, lauki, tinda, ponkh, amaranth and ragtail radishes. Vast swathes of the country were scoured and the coastline mined in an unprecedented exercise in a journey of discovery. "While I wasn't going to move back to India, I wanted to play a key role; I wanted a resident chef with great technique but an inherent understanding of authentic Indian food. What I found, however, were chefs aspiring to cook like they're at Noma. Until I interviewed Thomas Zacharias," he says. Chef Zacharias (or Chef Zac, as he is known) grew up in Kochi, in Kerala, where, he has often said, the restaurants served generic interpretations of other cuisines: North Indian curries, sizzlers, and such. Much like Chef Cardoz, his childhood food memories are linked to home and his grandmother. He has often said that in her hands, even a simple rice dish tasted delicious. He learnt cooking from her, watched her innovate and mine her memory for food that her mother cooked. A summer cookery class while studying at IIT ensured that he jilted his engineering ambitions.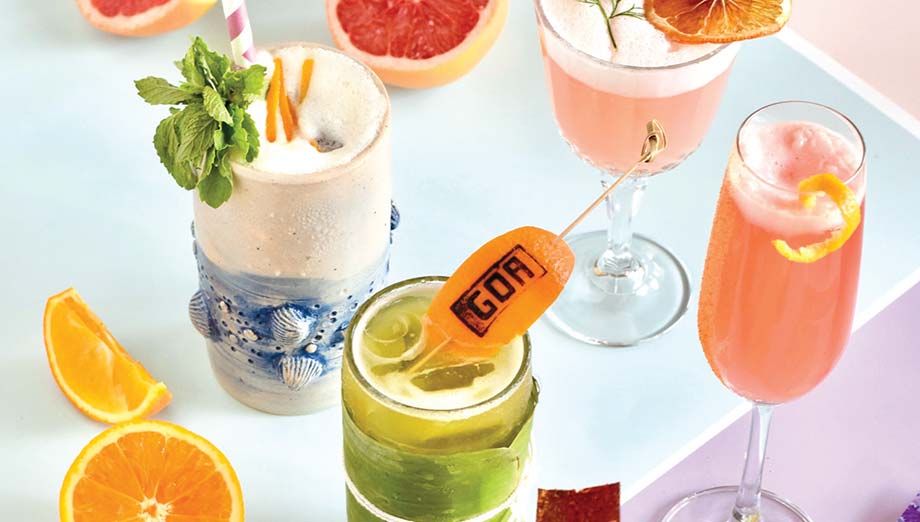 Sea Creatures, a series of cocktails at O Pedro. The mixologist combines the best of Goan bar staples with his own fertile imagination.
Chef Zac studied Hotel Management in Manipal, before travelling to the Culinary Institute of America, which, he recalls, had 52 kitchens and an inventory worth one million dollars a year. To pay for his education, he edited the local newspaper and tutored students in English and Maths. His next stop: Le Bernadin, a three Michelin-starred restaurant often featured in the 50 Best Restaurants list. He had to start right at the bottom, working the complete shift, serving 300 people a night. But the atmosphere, he says, had been nurturing. He subsequently returned to India and in 2011, began working with Chef Manu Chandra at Olive Bar and Kitchen in Mumbai.
Chef Zac, who cut his teeth cooking European fare, had an epiphany on a culinary trip to Europe three years later: he wanted to explore and cook indigenous cuisine, much like the Europeans cook theirs, and felt the urge to open a modern Kerala restaurant. But first, he had to understand Indian food, so he travelled through India for two months.
"Six years ago, most people didn't know what theplas were outside of Gujarati circles. We made them the base for pulled pork tacos, giving the Mexican staple a novel Indian turn." - Chef Floyd Cardoz
The interview with Chef Cardoz a few months after returning to India was, perhaps, the perfect alignment of stars. The quartet came together under the company name Hunger Inc. For Chef Zac though, this was just the beginning of a long journey of discovering Indian ingredients and cooking styles which he knew little of back then. And the only way he knew how to get acquainted was to travel across more than 15 states, mining each for ingredients, cuisines and stories. Even today, Chef Zac travels extensively, documenting his food and travel journeys on his Instagram account, which has over 43k followers. His Instagram reveals that he has travelled extensively through some of India's remotest parts, from the northeast to the east, through states such as Tamil Nadu and Odisha.
On his purposeful domestic jaunts, he has discovered a bounty of ingredients such as black rice from Tamil Nadu and almond-shaped baby potatoes from Assam. Some of the dishes he sampled on the road made it to TBC's menu: Kottu Paratha in Tuticorin (fried paratha with chicken curry and egg) and Bakla Bath (fermented cold rice) . Chef Zac was especially pleased with a Nagaland sesame pork curry made with pork innards and pork blood.
Chef Cardoz also drew from his Sindhi wife'sarsenal, inducting Arbi Tuk with it's crispy texture and sweet and sour flavourbalance, in the menu. He confessed that many of the dishes had to be adapted,but without undermining the original flavours. "Six years ago, most peopledidn't know what theplas were outside of Gujarati circles. We didn't just puttheplas on the menu but made them the base for pulled pork tacos, giving theMexican staple a novel Indian turn. Grilled dhoklas added a smoky dimensionthat unlocked flavours," he says. Similarly, an Indore street delight, Bhutteka Kees, a porridge-like dish containing corn and milk served with gratedcoconut and lime juice, was reinterpreted as a crispy polenta-like stick. Foodchronicler and blogger Sameer Malkani says that TBC and O Pedro have maderegional food fun and quirky, and allowed diners to relive memories throughdishes that have been plucked from homes.
Ironically, one of TBC's famous dishes, Kejriwal Toast, has no traditional roots. Wellington Gymkhana's modern classic, the dish ­— fried egg atop a toast generously slathered with melted cheese — is TBC's nod to the famous dish named after a former club member, Devi Prasad Kejriwal. He is said to have requested the Gymkhana chefs for an egg-and-cheese toast cooked his way so frequently, that they put it on the menu and named it after him. "What endears these dishes to our guests is our approach of working not just with recipes but with flavours that they associate with, what they grew up tasting. For some, it is pure edible nostalgia," says Chef Cardoz. Over the years, TBC's menu has evolved to absorb diverse regional cuisines such as Kashmir, Rajasthan, Bihar, Tamil Nadu and Assam. The most recent inductee is Odisha, after Chef Zac's visit to the eastern state. The current menu represents at least 18 states. "The accent on regionality for us is a concerted effort to preserve cuisine culture and history that hasn't been documented and is receding from contemporary memory."
"The accent on regionality for us is a concerted effort to preserve cuisine culture and history that is receding from contemporary memory," says Chef Thomas Zacharias, Executive Chef, The Bombay Canteen.
In food writer and critic Aatish Nath's view, TBC has reinterpreted regional food in ways that captivates a younger audience. "The staggering number of states it has highlighted through the prism of cuisine is without parallel. That's pretty much the case with O Pedro as well, where the stereotypical view on Goan cuisine being about cafreal and vindaloo has been rendered untrue. It has truly underlined the connection between Goa and Portuguese food and with its latest Lisbon menu event, taken diners to the true source of Goan cuisine." Gaurav Gidwani, F&B Director of Corum Hospitality vouches for the amount of research that the chefs at TBC have put into creating a unique flavour profile. "There's originality of recipes and flavours, and the team has stayed true to their approach." The regional focus aside, TBC has dotted its five years with challenging initiatives. The first anniversary saw the partners invite their mothers into the kitchen to cook up age-old recipes. "We are in love with the food cooked by our mothers, so it was time to bring them into our kitchen to show us how it's done. It wasn't just a celebration but valuable learning in-home cooking for our kitchen crew," Chef Cardoz says. The nose-to-tail dinner hosted by Chef Zac, now in year three, is another standout. "Now, while pig dinners weren't uncommon, goat certainly was," he says. Chef Zac pushed the envelope to cook each part of the goat in a specific regional style. One of his personal favourites is a goat's blood delicacy from Tamil Nadu. Two years into it, the gastronomical success scored on the back of TBC wasn't the only reason that the quartet felt they needed to start working on another project, a tribute to Chef Cardoz's familial roots in the shape of a Goan restaurant, O Pedro. "The vision was to get deeper with regional authenticity and the cultural context. Goa has been seen through the lens of the surf and turf, as in seafood and pork, but there is vastly more to its culinary repertoire and so many community staples still do not headline menus." Chef Cardoz laments that Goan food has gradually become 'Punjabified' —the invasive ingredient, ketchup, has been introduced in dishes.
The man chosen to front O Pedro's kitchen, Chef Hussain Shahzadhad, had already been on board with TBC from inception as its sous chef. Chef Hussain had been pulled into TBC project by Chef Cardoz while he was working in New York. It was the uniqueness of approach that first drew him to TBC, and that same lens informs the menu and style of O Pedro. Chef Hussain says, "Goa is more than just charcuterie, vindaloo and Kings Beer." Chef Hussain and Chef Cardoz travelled across Goa for weeks, visiting local restaurants, people's homes and connecting with communities. During one of the home lunches, they were introduced to local pickling, considered indispensable by the natives during the bare season, and the smoking of sausages — a technique no Goan restaurant could boast of. The desire to explore the roots of Goan cuisine took them to Portugal. They discovered that the tempura was, in fact, a Portuguese technique. They also discovered variants of Arroz (a Portuguese rice dish that's a cross between a khichdi and a risotto).
Chef Cardoz wanted O Pedro to shine a light on Goan cuisine, not just through the culinary prism of the Portuguese heritage but also that of Saraswat Brahmins, Ponda Muslims and Mangaloreans. O Pedro's offering is a delectably varied spread that includes Panaji chilly pakoras, Uddamethi (raw mango curry), watana rasam and sweet bun (a Saraswat hit), and Cardoz's mother's fish curry. Chef Hussain mentions some of the 'fun' improvisations that stuck: Prawn Aioli rooted in Chettinad oil made from prawn heads, pork seekh kebab, fish momos, coconut and rice ceviches, bone marrow curry with bread, and dried fish in salads. The critical and consumer acclaim that both TBC and O Pedro have garnered is a testimony to its founders' collective aversion to the stereotype. The feted consistency of the food at the two restaurants, Chef Zac stresses, is owed to the kitchen's culture. "The heat has to be in the food, not in the air. Our workspace evokes immense amounts of creativity and fellowship," he says. TBC is the only restaurant with a five-day-work week and unsurprisingly has virtually no attrition. As for the dent that the two restaurants have made on India's regional food niche, Chef Cardoz believes they've only just scratched the surface. So, perhaps a deeper dive is in order. Chef Zac promptly hints at an imminent Nagaland trip. There have been some bumps along the way, of course. Not everything worked. A drumstick soup that did well in a pop-up dinner research, was rejected by regular patrons as too bland. But the successes have been far more.
Childhood on a plate
Chef Cardoz in his essay Floyd's Canteen in the book, Chillies and Porridge by Mita Kapoor, says that his food philosophy is inspired by his childhood days in Goa. He remembers his grandmother baking Poee, chicken curry using fresh chicken from their backyard, or the flavourful pork sorpotel. He credits his locavore food philosophy and all the early food influences to his mother, grandmother and great-grandmother. In the city (then known as Bombay), he lived on Hill Road, which was a lazy neighbourhood. His favourite haunts, he has said, were A1 Bakery, Wanton House and Hearsch Bakery, some of which are still around, besides the chaat at Elco Arcade and keema pav at Yacht. Bandra had a line-up of interesting butcheries where you could buy fresh meat, besides fish and vegetables from street vendors. "Local kolis (fisher folk) would walk our neighbourhood, hawking the day's fresh catch. I was always on the lookout for shrimps, crabs and cockles," he writes. Chef Cardoz began cooking for his friends in Bandra before he did so professionally. The fourth of six children, he wanted to be a doctor. Arthur Hailey's book, Hotel, introduced him to the glamour of luxury hotels. He enrolled to study hotel management at IHM Mumbai and discovered he could cook. A course at the Global Management School at Les Roches, and a few stints in India later, he travelled to New York for his brother's wedding and decided to stay back. A job at Indian Café on the Broadway led to bigger and better things: sous chef at the famous Raga, Executive sous chef at Lespinasse in St Regis, New York, and then Executive Chef at Tabla.
Chef Cardoz and Chef Hussain travelled across Goa, mining food memories, lost recipes and rare ingredients for O Pedro's menu.
Chef Cardoz says that it was Chef Gary Kunz who let him introduce Indian flavours into the food at Lespinasse. "The more I cooked, the more I started to play with Indian ingredients." In 1997, Chef Cardoz opened the restaurant Tabla with Danny Meyer, where he experimented with his seasonal food philosophy. It shut in 2010 but New Yorkers still speak about it in an awestruck tone. He then opened Paowala and the critics' reviews were fabulous. Eater's Ryan Sutton says, "What made the restaurant one of the city's most essential new spots is its array of breads, Indian and Indian-inspired — from whole wheat rotis to puffy kulchas, to Tibetan tingmos, to tandoori-bruised naans, to room-temperature fish pies, to mini wada pao sandwiches, to honey-lime croissants and pecan chai sticky buns." Unfortunately, mid-2019, news trickled in that he is also shutting Bombay Bread Bar. Christ Crowley, a writer with New York Magazine says, "The restaurant had its fans, but ultimately it didn't stick enough for today's New York." Instead, in February 2020, Chef Cardoz plans to take O Pedro to New York City for a four-month long pop-up. For now, for Chef Cardoz and the entire team, including Seth and Bhanage, the attempt is to introduce New York to the best of O Pedro.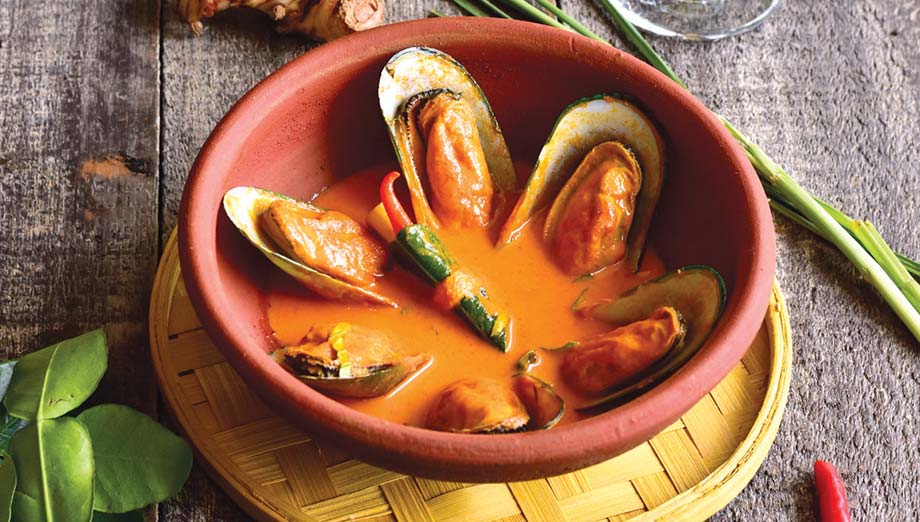 Curried Mussels at O Pedro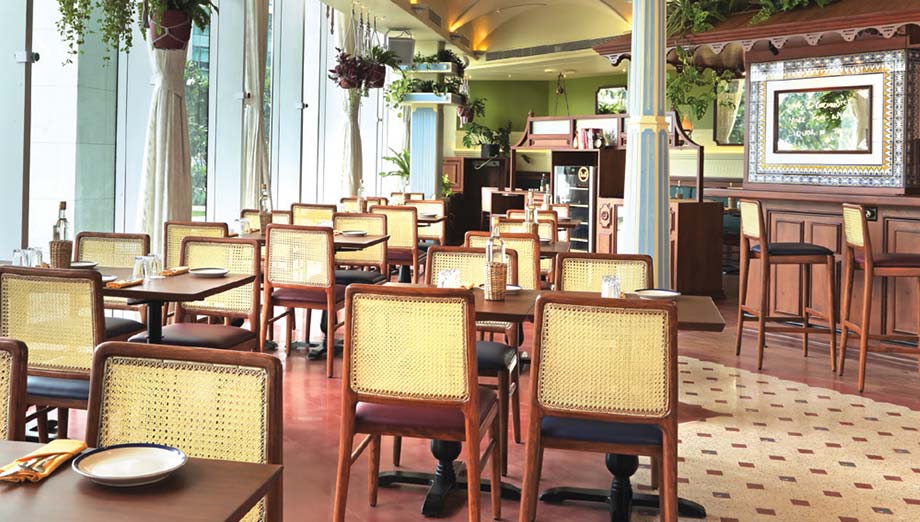 The restaurant transports you back to lazy and delicious meals eaten on warm Sunday afternoons in Goa.
Box
Flavour-forward approach to cocktails
Every year, The Bombay Canteen hosts Canteen Cocktails, an experimental series. In 2018, it introduced six wildly creative drinks, all inspired by the glamour of the city's cinemas of the 1930s. Titled A Guidebook to the Talkies of Bombay, the menu was designed like a guidebook, including a map that identified the six talkies, illustrations of what they may have been like in their heyday, and a wealth of little anecdotes sourced from, and about, the communities that surrounded them. Last month (November 2019) TBC launched a new cocktail menu inspired by Mumbai's Marine Drive. People of the Promenade has a line-up of seven cocktails, each representing the type that frequents Marine Drive. The whiskey-based Runner's High is dedicated to joggers, the sesame and jaggery-flavoured Hair of the Dog is a tribute to dog walkers. O Pedro's stellar bar is rated at No. 8 in the Top Bars of India. Its expert mixologists dive deep into the heritage of Goan bars for a menu of drinks that blend home brews with fresh ingredients.
Other Similar Posts