For a committed few, wine consumes their senses and their lives.
Interviews by Bhisham Mansukhani Photographs
-By Bajirao Pawar
The wine collectors
Vishal Kadakia
Wine Park
Wine, for me, isn't a passion as much as it a way of life. I realised this a long time ago when I was studying in Boston. Wine gradually became my only tipple of choice, and America is the best place when it comes to wines. It is the world's largest wine importer and also makes some stellar wines in California. So I was spoilt for choice and spent a considerable amount of time with communities of wine aficionados. I was both appreciating and learning about wine, discovering the sheer depth and range of varietals.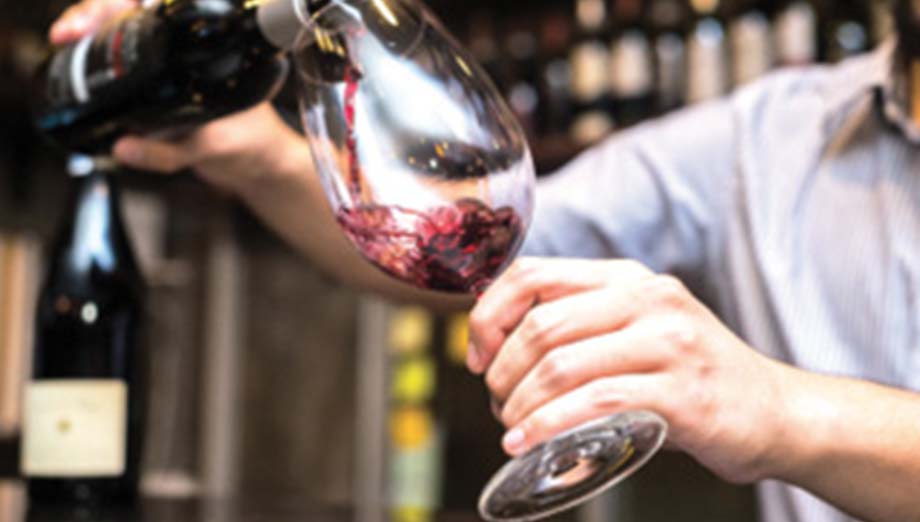 While it was in the US that I discovered my passion for wine, in India wine became an integral part of my life. I wanted to get into the wine business not only because I loved it, but also to escape my family's chemical business. I first thought about opening a wine bar but eventually decided to enter the import business. The segment was still only taking off in India, but there was undoubtedly a lot of interest.
Becoming a wine importer, for me, was an extension of being a wine aficionado. I perceived it as a way of appreciating and creating a portfolio of wines that I'd want to drink and also get more people to join me. I didn't want to bring down just popular labels but also unique and grand varietals. At the onset, I plumped for red wines from Spain's Rioja region. Though not well-known in India, they were well-received. This set the tone for my approach to building the import portfolio — mining for lesser-known, distinct wines with a compelling story.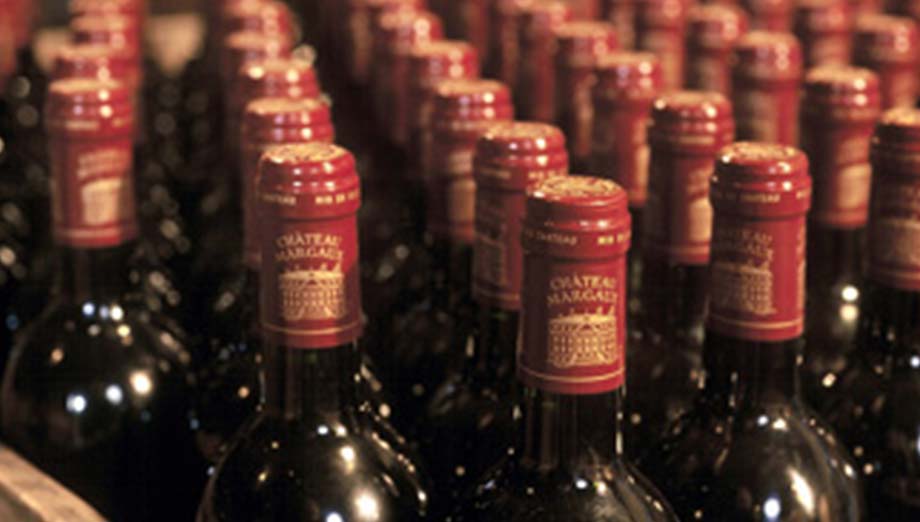 This approach drew me to two great Italian red wine producers from Tuscany — Querciabella and Brancaia. These were both premium producers with a prolific international market, but they also saw the value of having a presence in the modest but growing Indian market. The story was similar with wines from St Urban Hof from Germany, St Clair from New Zealand and South African producer, Thelema.
When I introduced these wines to the Indian market, they attracted a particular profile of wine enthusiasts. And my idea was not to put wines across as a product or commodity, but rather an experience with a compelling back story. Personally, I have some great wine experiences to recall. One that stands out is a visit to Mosel Valley in Germany where, after exploring a particular vineyard along with fellow enthusiasts, the winemaker himself opened a bottle of wine produced from that exact vineyard. Then, there were the long and generous lunches in true Italian style at the Querciabella winery that ran through late evening.
One of the biggest draws about wine are the people I've met, who share my passion. I remember being gifted one of the most treasured wines I've ever received from the owner of the winery himself. It was the Italian wine, Casanova di Neri Brunello di Montalcino Tenuta Nuova 2001, which had been voted the best wine of the year by Wine Spectator. I also treasured a 1996 Chateau de Saint-Cosme Gigondas, a single vineyard wine from the Southern Rhone Valley in France. Another important wine in my collection was the Brancaia 1997 Il Blu, which I patiently held on to for the longest time, opening the bottle in 2017. My favourite wines at this point are those that are subtle, elegant, crisply acidic and balanced. I lean most towards cool climate styles, so both whites and reds from Burgundy, German Rieslings, Southern Rhone reds, which are highly underrated, Brunello from Italy and Pinot Noirs from New Zealand are among my favourites. I do see myself building an extensive collection in the future. I'm fascinated by a wine's journey from the vineyard to ageing. I've begun by speaking to some of the producers I import from, to store away some bottles in their cellars for me to taste at a future date. These are the kind of investments that will bear fruit in the form of a great experience when the bottle is eventually uncorked many years later.
Hemin Adwalia
Businessman
I became conscious of my growing passion for wines on my frequent trips to Europe. While I was first introduced to wine by friends over dinner in restaurants, it was just a fleeting pursuit because there was not much you could buy in India. The market was still in its infancy, especially in the imported wine space. But when I started travelling to Europe for both work and leisure, my passion for wine took root and it grew to a point where collecting wine wasn't merely a lark or a hobby anymore, but a serious lifelong pursuit. The passion continued to grow, and my preferences and palate evolved as well.
My evolution as a collector began by drinking many different varietals and styles. I discovered facts and nuances about wines through conversations with experts and enthusiasts. I quickly immersed myself in the culture of wine appreciation and drinking. I also realised the challenges of being a collector in India because of the numerous domestic restrictions. So, I decided to keep my growing collection in the UK, where I buy the wines from reputed merchants, who also store them on my behalf.
A passion for wine isn't merely about drinking, but also discovering aromas and flavours. It is about knowing about the terroir of the regions where the grapes are grown. It is also about developing a nose and palate that helps appreciate the wine. I lean heavily towards reds, though there are some whites in my collection too. I prefer subtle wines with structure and supple tannins, which is the hallmark style of red wines that need ageing.
When bottled, the young wines are very tannic and alcoholic, but years of bottle ageing mellows them down considerably. Which is why I'm especially big on French wines, Bordeaux in particular. I also like Rieslings from Germany, Barolos from Piedmont and Sangiovese from Tuscany. Some of my personal favourites, which I look forward to opening in the future, are Chateau Gruaud-Larose (St Julien), Chateau Margaux (Margaux), Domaine Bruno Clavalier (Burgundy), Pol Roger Sir Winston Churchill (Champagne) and the Sassicaia (Tuscany). The vintages are important because all wines, great or average, differ, depending on the climate and soil conditions in any given year. The knowledge of this factor distinguishes an occasional wine enthusiast from a serious collector. Wine enthusiasts like wines at a casual, skin-deep level, but collectors such as myself do exhaustive research. I read about the wines I love before buying them.
I visit the websites of each individual vineyard to read the winemaker's remarks and tasting notes as well as harvest reports, to get a sense and understanding of the given vintage and whether it is worth adding to my collection. For instance, in the case of one of my most treasured wines from Chateau Margaux, the estate's most epic vintage, 1982, is unfortunately so expensive that most collectors like me find it impossible to lay our hands on them. That is how critical a vintage is.
As a collector, an important aspect to be mindful about is the provenance of every single bottle that sits in the collection. Collectors rely on wine merchants to access and purchase wines. The merchants acquire wines either directly from the estates or from other merchants and collectors. The wine bottle travels quite a bit. It is crucial to be mindful about the authenticity of the bottle before buying it.
The biggest dilemma for a wine collector is about the right occasion to open a treasured bottle. After all, you get only one shot at opening a bottle that's had such a long journey to arrive in your collection, where also it has sat for a long time. For me, it's the personal moments of celebration with my family ­— birthdays and marriage anniversaries. I have some great 1977 vintage (by birth year) Port wines from the Douro Valley in Portugal that I have kept for some landmark celebrations in the future.
For those critical moments when I open great wines, I have a specialist Durand wine opener, explicitly meant to open old vintages, where the cork might be worn out. I then pour the wine into a crystal decanter to allow the older wines to breathe and open up. The wine is finally served in appropriate crystal glasses.
No expense should be spared in serving an aged wine that has just been uncorked. It is a recognition of the connoisseur's patience and the end of his or her long connection with the bottle. Once a wine has been savoured, one starts to think about an appropriate replacement. My wish list includes Champagne, more Burgundy, and red wines from South Africa. There are so many fine wines to collect that one life is not quite enough.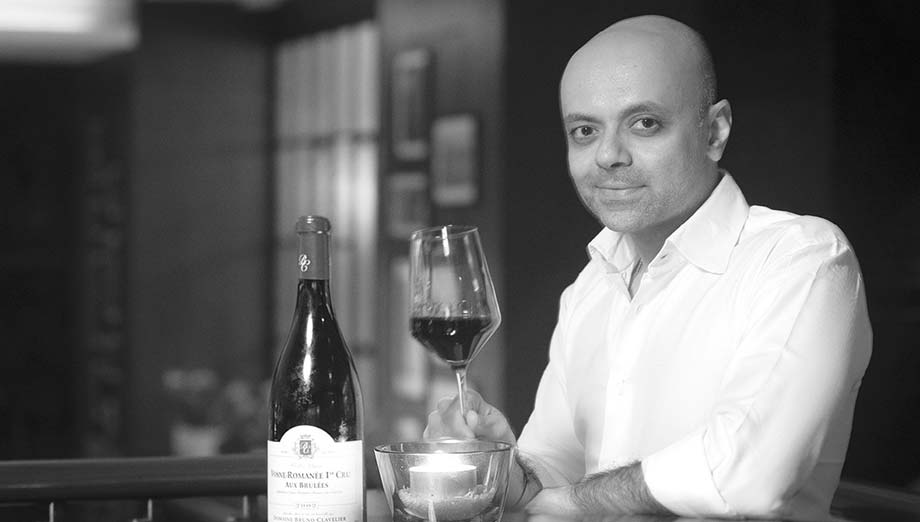 Hemin Adwalia with a wine from his collection.
"I'm fascinated by a wine's journey from the vineyard to ageing. I've begun by speaking to some of the wine producers I import from, to store away some bottles in their cellars for me to taste at a future date."
How to store and serve wine
Navigating through the world of wines can be a heady affair. But storing them right and serving them at the right temperature is essential to enjoy them.
Storing:
Wines stored in conditions that are considered adverse could lead to rapid deterioration, and leave a massive dent in your investment. Wines should be stored in a place that has a constant temperature between 10 and 15 degrees Celsius.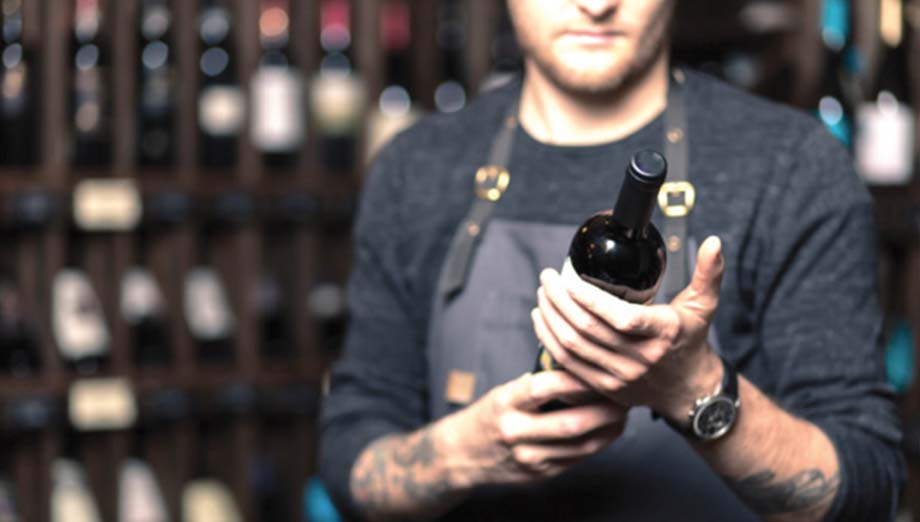 The Indian kitchen is the worst place for storing wines, considering how hot it can get. It pays to invest in good quality wine coolers or chillers, which are designed to store wines at ambient temperature, generally with a transparent door and sliding shelves that facilitate storage and selection of the wines. Consider options such as single-or-dual-zone temperature coolers, digital display, and adjustable temperature controls. Unfortunately, most wine coolers do not have humidity control features. They maintain a humidity of around 40 per cent. Over time, this tends to dry out the corks. If your collection of wines requires long-term storage, invest in a wine cabinet which can keep the wines at 70 per cent humidity.If all you are intending to do is store a few bottles for everyday use, a wooden wine rack should do. While storing, positioning the bottle right and keeping it away from the sun is crucial. The bottle could be stored in a dark space, where it is cooler than the outside temperature in India. Wine bottles with a wood cork must be stored horizontally to ensure that the cork remains moist and in contact with the wine. This way, the cork will not crumble or let the air seep into the bottle. Wines with screw caps could be stored either horizontally or vertically.
Serving:
While red wine is generally served at room temperature in cold countries, in India, it is best to chill them to around 16 to 20 degrees Celsius before serving. White wine should be served more chilled, between 10 and 12 degrees Celsius. The best way to do this, if you don't have a cooler, is to keep the red wine bottle in the fridge for about 30 minutes before serving, and then air it before serving. In the case of the white wine, store the bottle in the refrigerator and take it out about a half-hour before your drinking time. If you plan to store an open bottle, invest in a wine bottle stopper, a useful tool for preservation. Never store an open wine bottle beyond three days.
How to read a wine label
When buying a bottle of wine, it is essential that you have enough information about it. This is where the label on the bottle becomes important. In most countries which take their wine seriously, the law requires all the information to be presented on the label. Here's what to look for on a label.
Country of Origin:
The country where the wine originated will be clearly indicated on the label.
"In the case of one of my most treasured wines from Chateau Margaux, the estate's most epic vintage, 1982, is unfortunately too expensive for most collectors like me."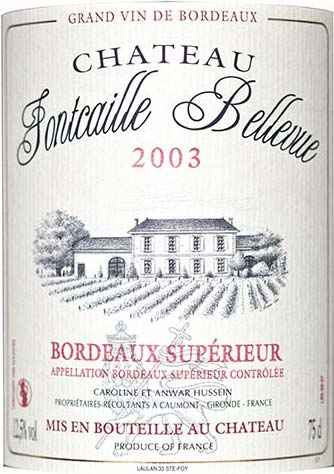 Wines from countries such as France, Italy, Germany, Spain, Greece, Portugal, Austria, Croatia, Romania, Georgia, Hungary, Switzerland, Israel, and Lebanon, which claim to have made wine before anyone else, are referred to as Old World Wines. The rest are New World Wines.
Quality Designation:
European wines by law and tradition are ranked by a rating system that grades them, with superior quality wines being the best and the table wines being the cheapest. The grades are usually displayed on the bottle. In the case of French wines, for example, these are the terms used to indicate the quality, from the best to the lowest-rated: AOC (Appellation of Controlled Origin), VDQS (Wines of Superior Quality), Vins de Pays (Country Wine), Vins de Table (Table Wine).
Vintage:
The label will indicate the year in which the grape used in the wine was harvested. A internet search will reveal the best vintage years.
Region of Origin/Grape Varietal:
The label, especially European ones, will indicate the region where the wine is made. Individual regions are associated with specific types of grape varietals. Red Burgundy, for example, suggests that the red wine is from Burgundy, which is known for its Pinot Noir variety of grape. A simple internet search will indicate what grape varietals come from which region. Those that don't mention the region will display the name of the grape varietal used in the making of the wine in the bottle.
Other Similar Posts