Charcoal and truffle oil in your cocktail, custom-made barware and Indian lilac infusions — Town Hall, Mumbai, at The World Towers by Lodha, embraces the experimental cocktail culture that has changed the way people drink, globally.
- By Bhisham Mansukhani, Photographs by Bajirao Pawar
Craft Cocktail Haven
There's little about this bar and world cuisine restaurant that's commonplace. In fact, there is plenty that represents everything that is tantalizing about the trending global cocktail culture.
'Town Hall is an unusual name for a cocktail bar-cum-restaurant. In Britain, town halls are places where the elite and political leaders once congregated to make significant policy decisions.
The name is an unmistakable invitation to congregate and the clutch of signature cocktails is the answer to the reason why. Town Hall is one of Mumbai's latest restaurant-cum-bars to enter the generously populated Lower Parel food and beverage realm but with some shining distinction. Already well established in Delhi, 'Town Hall's Mumbai outpost at the swish new address, The World Towers by Lodha, serves world cuisine, chief among them sushi and grills, Southeast Asian comfort food and South American fare. Notably, it also serves a number of in-house crafted cocktails. With so many restaurant options alongside one long asphalt stretch, Town Hall, its owner Randeep Bajaj says, had to do something compellingly unique.
Hence, a menu comprised entirely of signature cocktails and stripped of the classics (though they are available on demand) is Town Hall's hedonistic attribute. "Cocktails are more in vogue now than ever. Town Hall has been active since this trend was nascent. We've put our backs into creating a space to experience eclectic original cocktails. We don't worry about the liquor and ingredient cost as much as crafting a great cocktail, in spite of all the challenges," Bajaj asserts.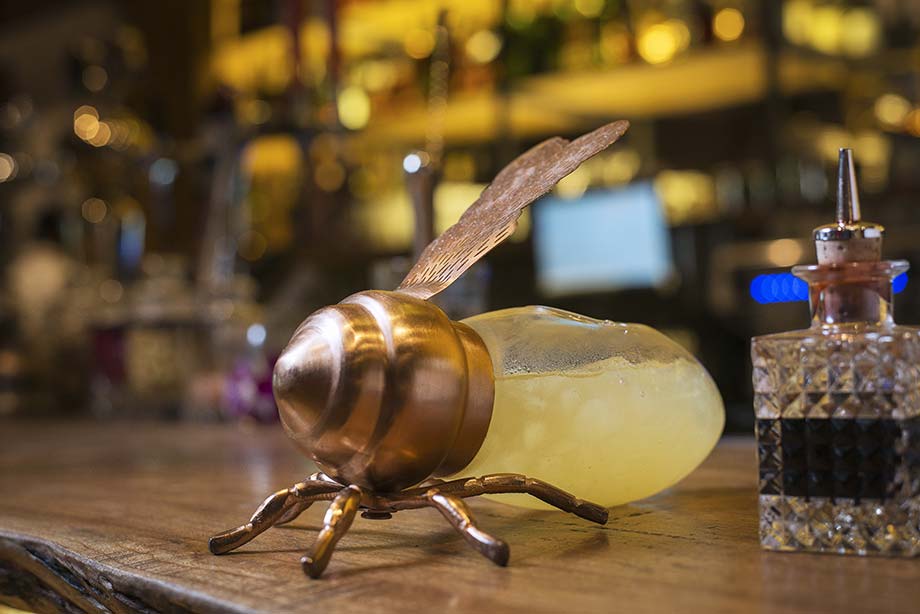 The space itself betrays a certain originality of scale — the tall ceiling offers a sense of volume and the bar stretches its shelves almost all the way to the top. There certainly is a lot of spirits to look up to.
A menu comprised entirely of signature cocktails and stripped of the classics (though they are available on demand) is Town Hall's hedonistic attribute.
Cocktails & how
Signature cocktails are now a pervasive claim to fame for most high- end bars. For Town Hall, these aren't just an attractive gimmick but serious business. Town Hall's signature cocktail menu, remarkably, brings home plenty of international trends as well as domestic ones. Bajaj believes that many of the prevailing. international and domestic trends are embedded in the menu itself. "Indians have moved beyond the classics and prefer signature concoctions and that is confirmed by the fact that our best- selling cocktails are all house originals. Our focus is on contemporary cocktails," he infers.
Then there's gin — this aromatic white spirit has pervaded international mixology for the past two years and in India, the charge is two-pronged, both with cocktails and a larger selection of international and even domestic gins. 'Town Hall has gone a step further, serving up home-made gin and tonic literally, all four variants of them. This they've done by using siphon machines to redistill gin and produce home- made infused tonics — Indian lilac and smoked pineapple are some notable ingredients.
Which neatly pivots the conversation to another buzzing fad — infusions. Town Hall beverage director, Hitesh Kumar, who worked the Delhi craft cocktail bar scene for several years, pitches in. He reveals a key bar USP, saying that while most bars infuse spirits back of the house in mason jars, Town Hall uses its siphon machines to create the infusions on demand. One of the rewards is a signature called Heritage which contains coconut-washed bourbon. Washing is a technique that requires infusion. "Town Hall has the gear that gets it done in minutes using siphon machines as opposed to conventional infusion that might take two days. So, we're doing infusions on demand," Kumar declares.
Golden Saint is one of the bar's most popular cocktails in which this technology is best on show, requiring rapidly infused turmeric gin.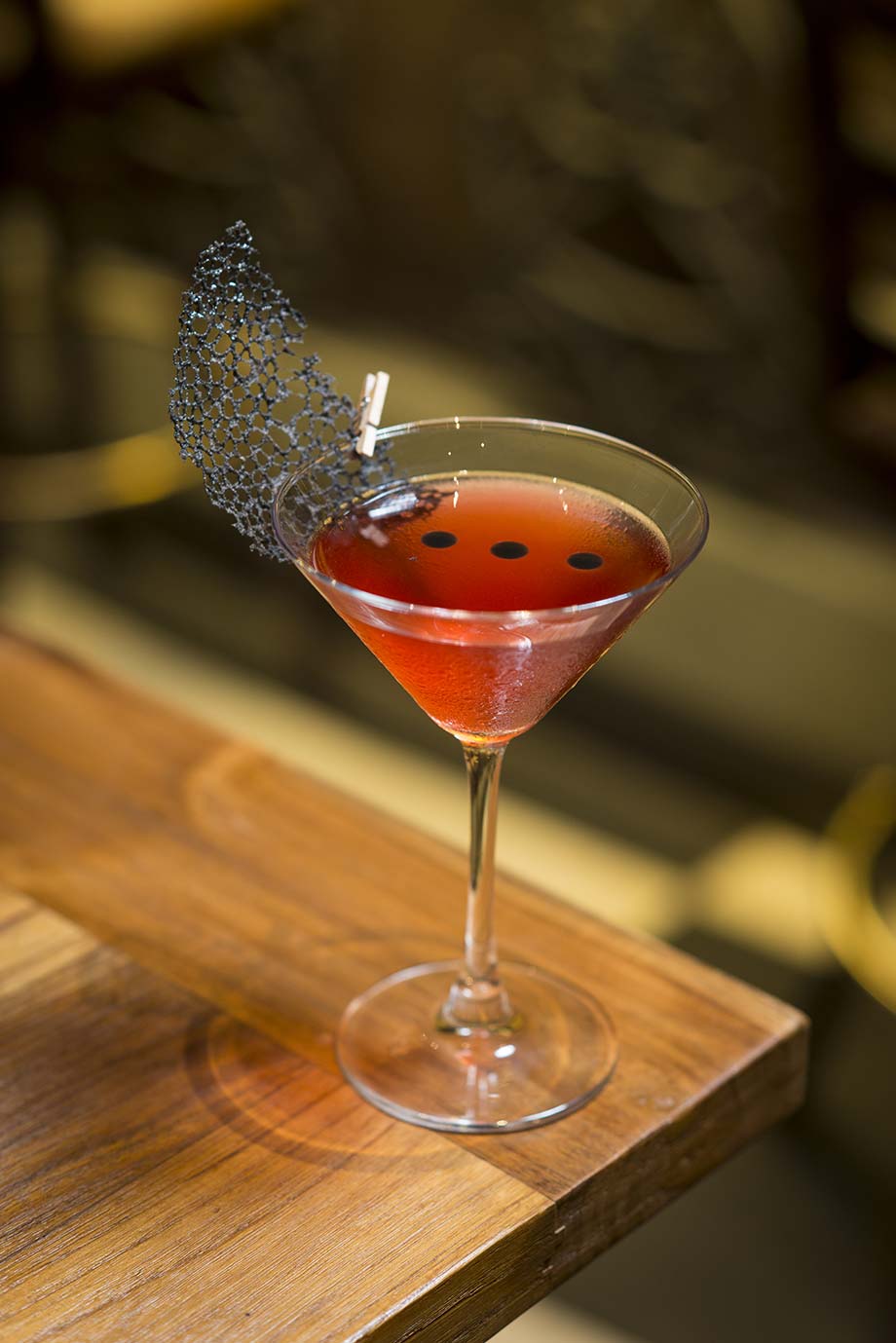 In-house craft
Bitters are another fruitful obsession for the Town Hall bar. Bitters, Bajaj says, are a vital ingredient that lends balance and complexity to cocktails. He notes that many of the bitters were all initially imported from Europe and while that supply line is still active, Town Hall's handymen are constantly making their own. The mixology workspace abounds with tiny bottles of grapefruit, rhubarb and tonic bitters. Toxin Protocol uses grapefruit bitters while orange bitters liven up the tequila-based concoction, Rutaceae. Kumar claims that eucalyptus tincture which goes into the signature aperitif, Botanic Touch, is almost impossible to find behind any Indian bar. Its Asian influences are betrayed by an arsenal of spice bitters, namely Thai chilli and bell pepper. Walnut, chocolate and cinnamon bitters are in the works as are recipes to deploy them in.
With regard to another critical ingredient, syrups, trend or not, Bajaj says Town Hall doesn't do artificial. "We want to banish artificial flavours from this space so home-made syrups are a strict norm. We use a lot of fresh fruit here — strawberries, for instance, are crushed, pureed and frozen. Even our sugar syrup is made from sugarcane," he stresses.
Back to spirits. Gin isn't the only one monopolizing the domestic buzz. There's been latent Latin traction with both Mezcal (Mexico) and Pisco (Peru and Chile) gaining favour. So, there's a signature, Stalker (sole Mezcal cocktail for which dry vermouth and apricot are used) and while the bar presently serves up the Pisco classic — Pisco Sour, in-house recipes are in the works.
Caribbean and South American rums also feature among Town Hall's cocktails. Sake Council features as an unmistakable tip of the hat to Town Hall's dedicated sushi bar — sake with galangal, lemongrass and citrus, served in the very Oriental soup bowl.
There's an interesting ingredient, Kumar points out, which global mixologists are taking to and so is Town Hall. Charcoal features in two of its signatures — Char-goma and Toxic Protocol. The latter features an activated (heated) charcoal flavoured ice sphere so the cocktail starts off looking creamy, gradually getting darker as the sphere erodes. Some other trendy asides include the use of healthy ingredients such as aloe vera, turmeric, chia seeds and Sriracha.
Kumar brings to attention the shooters section; shooters, he says, aren't just for kicks but also some serious flavour experiments. For proof, there's High Octane which contains truffle oil and butterwash gin and tastes nearly like petrol. Two oak barrels sitting quietly behind the bar, ageing two classics, are a nice touch and might soon be nursing signatures.
The overall cocktail presentation, Bajaj emphasizes, is also taken seriously. "We focus consciously on the aesthetics — garnishing, ice and most significantly, glassware. Most of our glassware is custom-made. Custom glassware is a growing international trend in an age when most cocktails land up on Instagram before being sipped," he points out. To that end, Town Hall's menu contains another distinction — a cocktail tree which includes six cocktails — a community cocktail concept.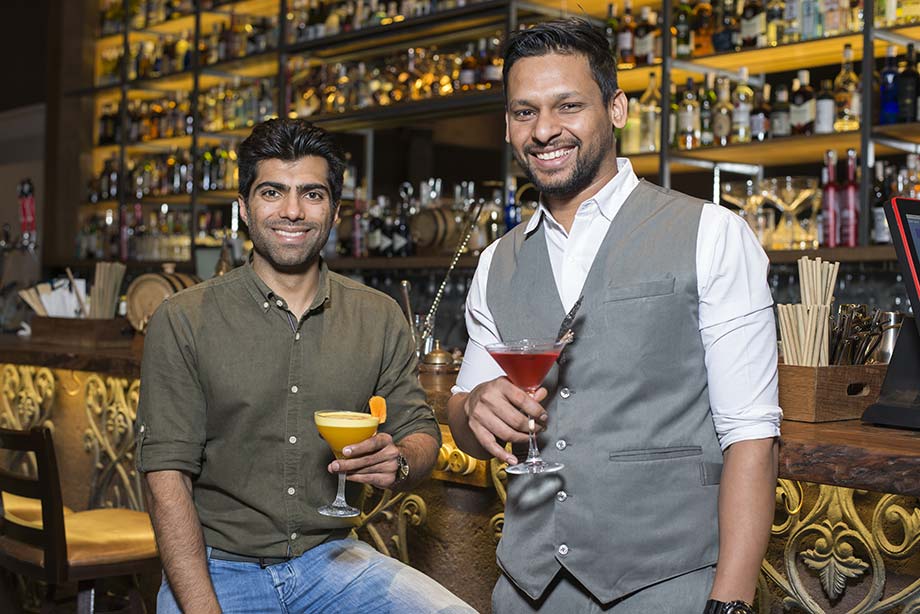 Redoubtably, Town Hall is a reliable mirror to, and a sounding board for global cocktail trends. But it isn't the one to rest on its achievements, with seasonal menu changes due and hibiscus-flavoured ice and sous vide machines ready to make in-house liqueurs. The crafting here is unlikely to ever cease. Town Hall, Mumbai certainly isn't the common cocktail haven.